A selection of original ideas of crafts from scrap materials with photos and instructions
Newspaper baskets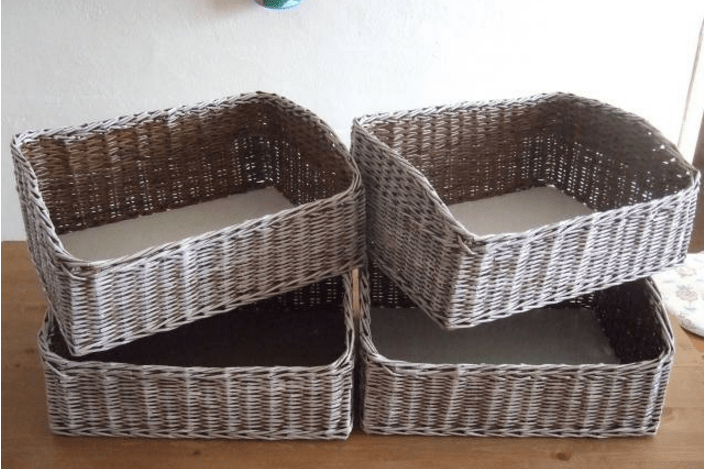 It is not necessary to spend money in order to have such baskets for any small things at home, because you can make them yourself.
We will need:
braiding box
thick cardboard
many newspapers
scissors
glue
knitting needle
1. We cut a newspaper sheet in half and start to wind up a newspaper strip on it at such an angle: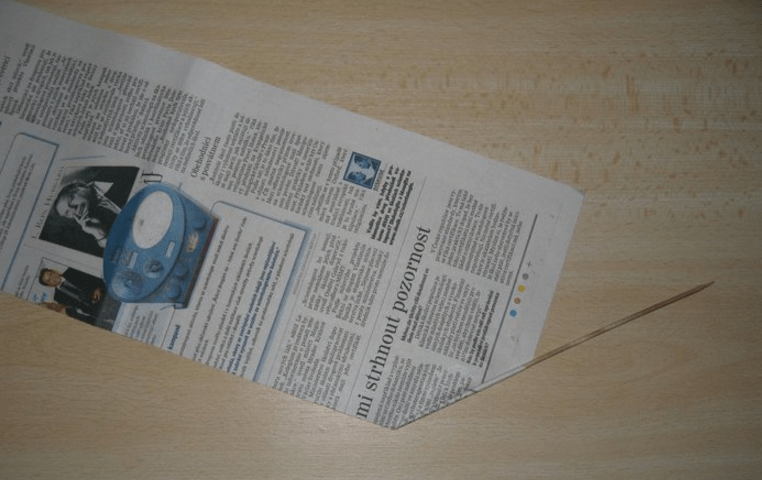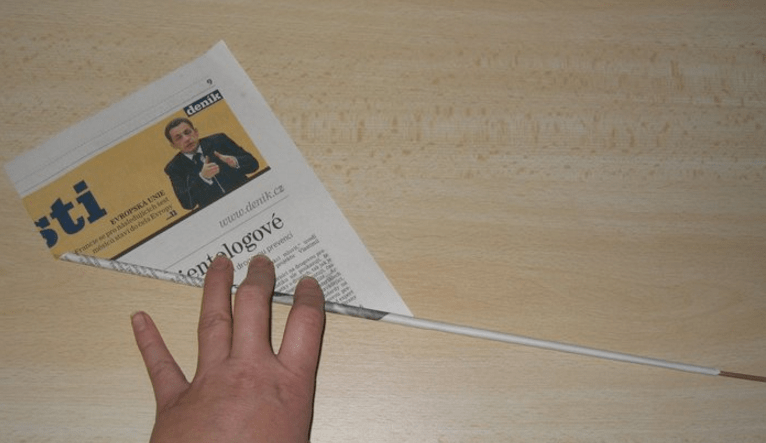 2. Glue the tip of the newspaper to the tube.
3. Take a cardboard box for the bottom of the basket and glue the tubing to it.
4. Above it is necessary to glue another piece of cardboard.
5. For the first row simply wrap the tubes one by one.
6. The last tube is wrapped, as shown in the photo.
7. Stick an additional tube and begin to weave a basket.
8. Attach the tubes, inserting one into the other.
9. Tubes are increasing in the process of weaving.
10. We look how weaving ends.
eleven.Place the wrapped tubes inside our basket.
12. At the final stage, the tubes need to be cut and scorched.
13. The prepared basket can be painted in the desired color.
And in this video you can learn how to tie a rug from bulk yarn
Cork mat
We will need:
basis for the mat (you can use a laminate)
plugs of the same size
knife and scissors
glue or glue gun
1. Cut off part of the base.
2. Cut the plugs in half.
3. Glue the cork to the base. Voila, a new mat for prryhozhey ready!
Rug of unnecessary things
Such a rug will not only decorate the entrance to the apartment, but also save you from old, unnecessary things.
1. Cut unnecessary clothes into thin strips.
2. Tie pieces of cloth tightly to the mesh.
3. Secure with adhesive tape and the mat is ready.
Plaid of slices
Plaid of the pieces can be done in different ways:
1. From knitted pieces. First you need to knit small squares of different colors using knitting needles or a hook, and then connect these squares together.
2. From different pieces of cloth.
Beadwork
Decoupage furniture
Recently, decoupage has become increasingly popular, because it is a great way to update your furniture and decorate the interior of the apartment. For decoupage usually used photos, old books, newspapers or magazines, cloth.These materials are varnished or pasted on pieces of furniture.
Table decoration
Chest dressing
Such crafts will be very useful in everyday life, and make them quite easy.
Handmade products can decorate the interior of not only your home, but also the garden. Unnecessary things can turn into very useful for giving.
Crafts from the vine
If grapes grow in the country, then you are provided with material for needlework until the end of life. You can make decorative figures, benches and much more from a rod.
Cache-pot and a rug from a rope
Plastic bottle cap mats
Each of us has a whole bunch of plastic bottle caps at home, so why not do something useful with them?
Covers are interconnected by a fishing line, and holes in them can be made with the help of awls.
Pictures in country style
Pouf in the technique of patchwork
Patchwork is another recent trend in the world of interior design.
1. To manufacture such a pouf, we need to cut 12 triangles from colored material and sew them together.
2. Cut a piece of fabric that will be the side of our pouf. Sew the cut and stitch with the previously made triangles.
3Cut a circle of the same diameter as the upper part of the padded stool. Sew on the bottom, leaving a small piece is not stitched.
4. In the final stage of manufacturing the pouffe, it must be filled, mended and sewed a decorative button for beauty.
If you have your own dacha, then why not make a hammock, which is so convenient to read your favorite book.
For the manufacture of hammock, we need:
We proceed to the manufacture of:
1. Cut the fabric base (rectangle 115x86 cm) and cut 14 strips of size 8x15 cm. Each strip must be folded in half and stitched. We fold the resulting ribbon in half and sew, so we will have a very strong loop.
2. On 7 such loops we sew to a basis from each party.
3. We fix our rope on each loop.
4. We fasten the ropes on a piece of wood, to which we attach the carabiner.
Hand-made curtains
Vases that can be made from ordinary bottles using decoupage
Pictures There is no limit to creativity.
Dishes that can be decorated in the desired style.
Furniture. If you have old chairs or a table at home, why not paint them, adding a touch to the interior of your apartment?
And with such ideas you can diversify the decor of your home.
Related News
What is brillianite
Why does the spleen hurt
List of the most interesting documentaries about space
Duck Terrine with Nuts
How to successfully pass the session with correspondence courses
Chocolate Coffee Card
Painting in eco-style