Math Antics - Triangles
How to Classify Triangles
Two Methods:
Geometry often involves comparing and classifying shapes, line segments and angles. Triangles can be classified by 2 different attributes. A triangle may be named for its angles or for its lines. It may also be given a dual classification and classified by lines and angles. You will be able to give every triangle a more specific name after learning how to classify triangles.
Steps
Classify Triangles by Sides
Measure each side of the 3 sides of the triangle using a ruler.

Place the ruler at the end of each line segment of the 3 lines in the triangle and measure to the opposite endpoint of each line.

Make note of the measurement for each of the 3 triangle sides.

Determine how the 3 sides compare in length.Inspect to see if some lines are longer than others in length and if any of the lines are equal in length.

Place the triangle into a category based on the comparison that you concluded about 3 line segment lengths of the shape.

A triangle with at least 2 congruent, equal, sides falls into the category of isosceles.
A triangle with all 3 congruent sides will be classified as equilateral.
A triangle with no congruent sides is labeled as scalene.
Classify a Triangle by Angles
Use a protractor to measure each of the 3 interior angles of the given triangle.

Record the measurement of each angle in degrees.

The 3 angles inside a triangle will always have a sum of 180 degrees.

Distinguish if the angles are right, acute or obtuse according to their measurements.

Classify the triangle according to the measurement and the type of angles.

Name the triangle as an obtuse triangle if any of the angles are greater than 90 degrees. An obtuse triangle will only have 1 obtuse angle.
Classify the triangle as a right triangle if the triangle possess a right angle of 90 degrees. A right triangle will only have 1 right angle.
Categorize the triangle as acute if all 3 of its angles are less than 90 degrees.
Determine that the triangle is equilateral if all 3 of its angles, (which would have to be acute), are congruent. In an equilateral triangle, all 3 of the angles will be 60 degrees, because the sum of the 3 interior angles in a triangle is always 180 degrees.
Community Q&A
Question

Which angle would I measure first to classify different triangles?

The first step is to look at the triangle and notice if one angle is obviously larger than the other two. If so, measure such an angle with a protractor. If the angle is 90°, the triangle is a right triangle. If the angle is greater than 90°, the triangle is an obtuse triangle. If no angle is obviously larger than the other two, use a protractor to discover if two of the angles are equal to each other. If so, the triangle is isosceles. If all three angles are equal, the triangle is equilateral (equiangular). If all three angles are unequal, it's a scalene triangle.
Ask a Question
200 characters left
Include your email address to get a message when this question is answered.
An equilateral triangle can also be classified as an isosceles triangle, because at least 2 of its sides are congruent.
Warnings
An obtuse triangle and a right triangle will both have acute angles. However, they can not be classified as acute. An acute triangle must have 3 acute angles.
Always use a tool, not your naked eye, to measure the line segments and angles of a triangle. The lines or angles may appear congruent when, in fact, there is only a small difference among them. The error in measurement will change the classification.
Article Info
Categories:
In other languages:
Português: , Español: , 中文: , Italiano: , Deutsch: , Français: , Русский: , Nederlands: , Bahasa Indonesia: , العربية: , Čeština: , हिन्दी: , ไทย: , Tiếng Việt:
Thanks to all authors for creating a page that has been read 31,926 times.
Video: Classifying Triangles
How to Classify Triangles images
2019 year - How to Classify Triangles pictures
How to Classify Triangles forecast photo
How to Classify Triangles pics
How to Classify Triangles new pics
pics How to Classify Triangles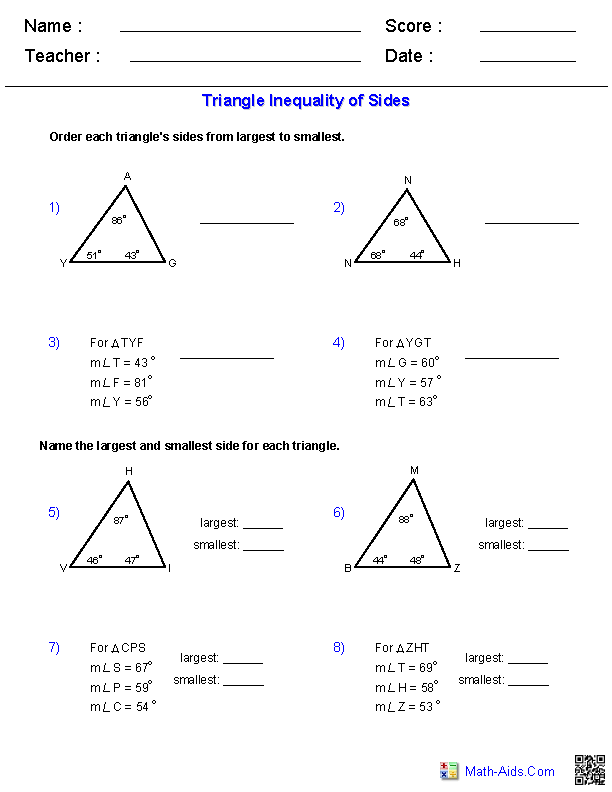 Watch How to Classify Triangles video
Forum on this topic: How to Classify Triangles, how-to-classify-triangles/ , how-to-classify-triangles/
Related News
US midterms: What they mean for the 2020 presidential race
10 Amazing Uses And Benefits Of Patchouli Oil
Do's and Don'ts in a teenage relationship
5 Reasons to Boycott Khloe Kardashian's New Show, RevengeBody'
InBody Band Review: A Fitness Wearable for Body Fat Testing
Push-Ups: Get Killer Results with Perfect Push-Up Form
Doctors Respond to Gun Violence
Jennifer Aniston Talks About Justin Theroux in Her Amy Sedaris Interview
Outfits with Mom Shorts – 28 Ideas on How to Wear Mom Shorts
4 Ways to Scare People
How to Dress Like a Lawyer
Why Perfectly Healthy People Get Heart Attacks
Date: 08.12.2018, 17:21 / Views: 75154
---