How to clean Silver in 2 1/2 steps
How to Clean Oxidized Silver
Three Parts:
When it's time to break out silver for a special occasion, you may be disappointed to find its once gleaming surface darkened with oxidation. With three simple household products, distilled water, aluminum foil, and baking soda, you can restore your silver to its pre-oxidized condition. After you've cleaned the silver, store it with desiccating packets and wash it by hand to prevent future oxidization.
Steps
Applying Oxidation Cleaner
Layer the bottom of a glass dish with aluminum foil.This dish should be deep and large enough so that your silver can be completely submerged in it. If you don't have a suitable glass dish, use an aluminum pie tin or baking dish.

Position the silver on the foil for maximum contact.You'll want your silver to be touching as much of the foil as possible. For large or irregularly shaped pieces of silver, you may need to lightly wrap parts of it in cuffs or sleeves of foil.

Scatter baking soda lightly on the silver.Try to only dust the surface of the silver with baking soda. A little bit goes a long way. For pieces that you have wrapped in foil, spread the foil open so you can add some baking soda to the silver underneath. Reseal the foil afterwards.
Activating the Cleaner
Boil enough distilled water to immerse the silver.

Clean a kettle or pot with soap and water. Contaminants in dirty kettles or pots could reduce the effectiveness of this technique.

Thoroughly rinse cleaned kettles and pots; leftover soap could result in a spotty finish.

Immerse the silver in boiling water.

Position the kettle or pot over the container holding the silver. Slowly pour the boiling water over the silver until it is submerged. The silver will bubble and give off the smell of rotten eggs. This smell is not harmful, but will likely be unpleasant.

To prevent this smell from building up, you may want to open a window. Alternatively, position your dish under the range vent for your stove top and turn on the fan before adding boiling water.

Flip the silver so both sides touch the aluminum.

After about a minute, use a wooden spoon to flip the silver so that both sides touch the aluminum. Prod sections wrapped in foil to ensure the silver has come into full contact with the foil.

Use a pair of chopsticks to reposition the silver with greater precision while it's submerged in the boiling water.

Rinse the silver in distilled water.The silver will have absorbed a lot of heat from the boiling water. Do not touch it with your hand until it has cooled fully. Instead, use your utensil to scoop or pick up the silver and position it over a sink. Pour distilled water over all its surfaces.

Dry the silver.

Wipe all surface moisture from the silver with a soft cotton cloth. When the silver is dry, lay it out on an unused soft cotton cloth. For silver with difficult to reach detail work, use a cotton swab to remove remaining moisture. Allow the silver to air dry for 10 to 15 minutes.

Avoid using wool polishing clothes on silver. This kind of fabric can chemically react with silver, resulting in an undesirable finish.

Polish the silver.

Buff silver with a special silver polishing cloth for the best results. Alternatively, use a soft cotton cloth to buff the silver. Use circular motions and firm, moderate pressure.

Silver polishing cloths can be found at most home centers and hardware shops. You could also purchase this product from an online silver restoration website.
Silver polish can further improve its shine. Apply polishes according to their label directions. Buy silver polish at hardware stores, jewelry stores, and general retailers.

Store the silver.

Store your silver away from light, heat, and moisture. A soft cotton or felt lined silverware box is ideal. You could also store silver in airtight jars kept in a cabinet or some other dark place.

Soft cotton or felt lined silver containers are available through many online silver retailers. Look for these at high end dishware and cutlery stores and jewelry stores as well.
Preventing Oxidization
Defend silver from moisture with desiccating packets.

Moisture can make your silver tarnish more quickly than normal. When not in use, store your silver with desiccating packets filled with silica gel. These can usually be purchased at craft stores, general retailers, and hardware stores.

If you have small children or pets, be sure these packets are inaccessible to them. Eating these packets could be deadly.
Alternatively, store a piece of chalk with your silver. Similar to the desiccating packets, the chalk will absorb moisture. Chalk will also be less dangerous to children and pets.

Avoid exposing silver to acidic substances.

Anything that contains lemon juice or vinegar will likely cause your silver to tarnish very quickly. Forego using your silver when serving any acidic food. Mustard, onions, and eggs are some of the most common foods that contribute to rapid oxidation.

Food that has a sour taste often has acidic properties. When in doubt, use non-silver items with food like this.
In some cases, perspiration may be acidic enough to cause oxidation. Other possible culprits include perfume, makeup, hair products, and cleaning products.

Store your silver away from rubber, latex and other metals.Rubber and latex will have a strong negative reaction to silver. They can permanently deface its finish or cause the metal to be eaten away. Avoid storing your silver with other metals. Doing so can also make the silver oxidize more quickly.

Hand wash your silver.The detergent and heat of your dishwasher can cause oxidation and corrosion in your silver. Silver should be cleaned with cool water and a mild soap. Use a soft cotton cloth to wipe dirty silver clean when necessary.

Use silver more frequently.Opposite of what you might expect, using your silver and cleaning it thoroughly by hand after every use can defend against oxidation. Even using your silver once a week could keep it looking oxidation free for longer.
Community Q&A
Ask a Question
200 characters left
Include your email address to get a message when this question is answered.
Warnings
Avoid using this oxidation removing technique for silver inset with precious stones. The stones may react negatively to the foil/baking soda cleaning process.
Consult a jeweler or silver professional before attempting to clean valuable or delicate silver in the fashion described.
Video: Clean silver, removing tarnish instantly without polishing or harsh chemicals
How to Clean Oxidized Silver images
2019 year - How to Clean Oxidized Silver pictures
How to Clean Oxidized Silver forecast photo
How to Clean Oxidized Silver images
How to Clean Oxidized Silver new pics
pictures How to Clean Oxidized Silver
Watch How to Clean Oxidized Silver video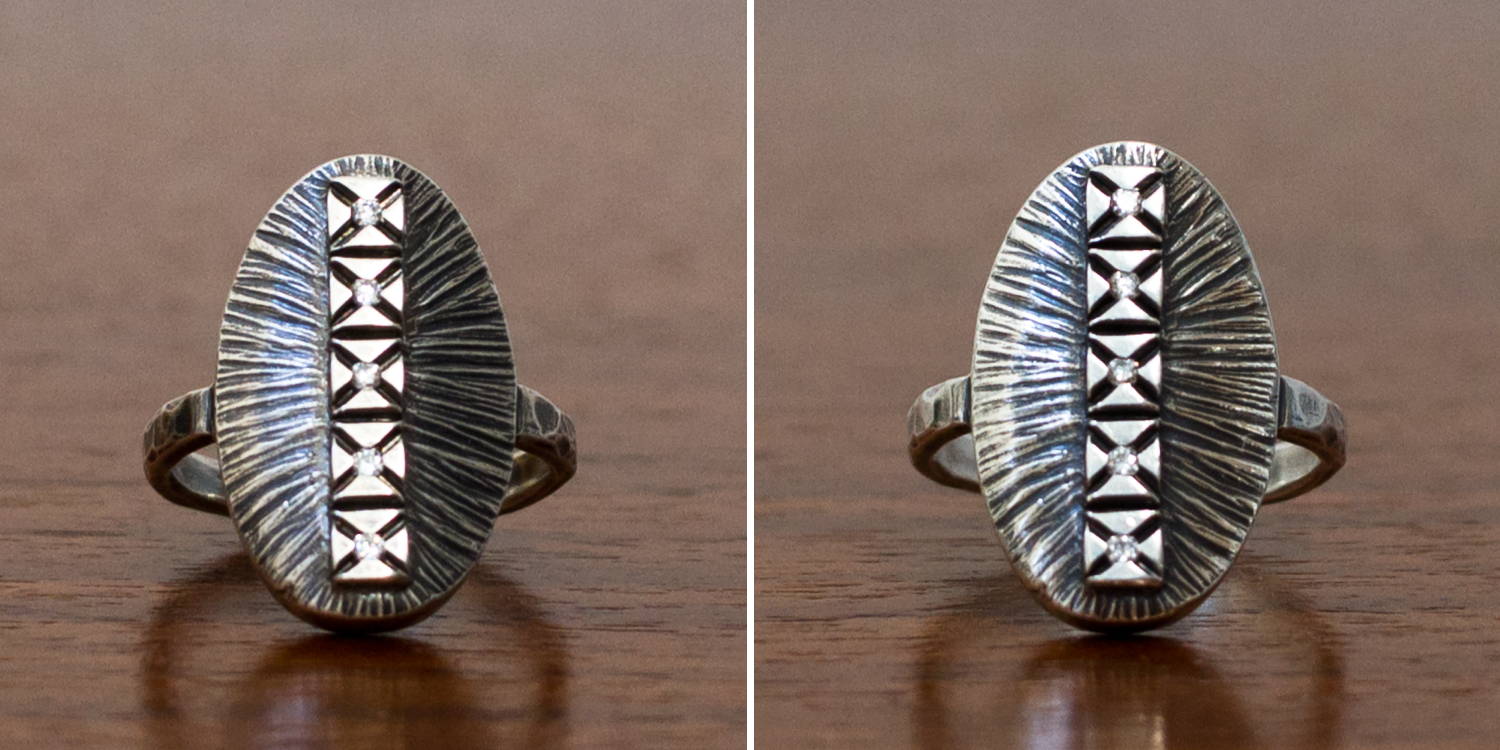 Discussion on this topic: How to Clean Oxidized Silver, how-to-clean-oxidized-silver/ , how-to-clean-oxidized-silver/
Related News
The Last Jedi Trailer Just Delivered One of the Biggest Moments in Star Wars History
How to Date a Virgin
12 Great Lunges for the Hips, Glutes, and Thighs
Boozy Tiramisu Recipe
11 Tiny Life Changes Thatll Bring You Major Bliss
9 Ways to Beat the Heat
Hepatitis a vaccine reactions Results from Everyday Health
Heavy Drinking Linked to Greater Risk for Alcohol-Related Cancers
Does Laser Hair Removal Actually Work
This Mindfulness Trick Could Help You Keep Your Anxiety On Lock
5 best trainers for lifting weights
Holding Swigging Wine
Erdem x HM is the Next Huge Fashion Collaboration
Coconut Banana Paleo Cookies
11 Secrets to Saving Money at Bed Bath Beyond
Date: 09.12.2018, 21:02 / Views: 62454
---