On the eve of the New Year holidays, everyone wants that the house was unusually beautiful, cozy and fabulous. Therefore, it's time to think about what can be done to achieve the desired goal. A good option to decorate the room before the New Year holidays will be decorating windows with unusual drawings, festive motifs, which will bring the pre-holiday mood and the New Year's fairy tale into the usual atmosphere of the room.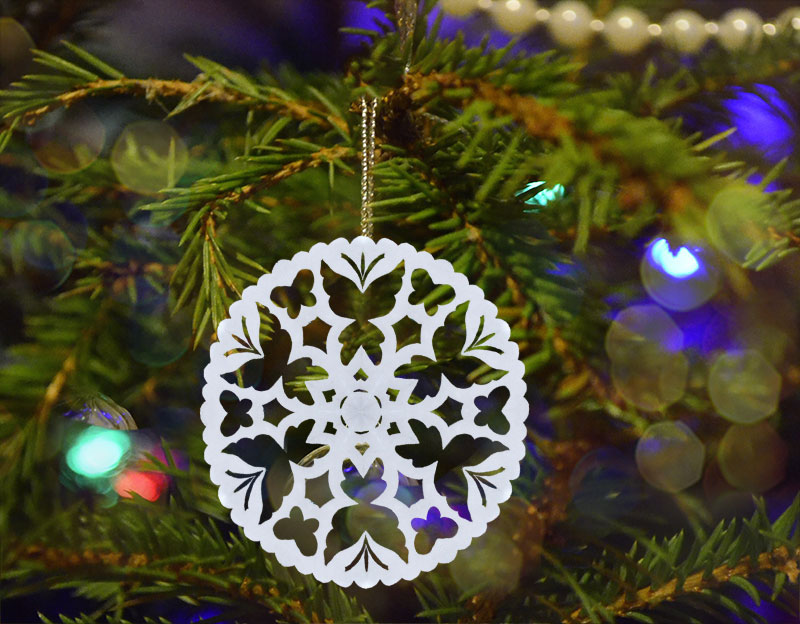 And you do not need to think that all home decorations can be purchased only in a store, while spending a rather large amount of money. It would be much better, having united the whole family, to make various decorations for the house and the Christmas tree on your own. For such an activity, you can select a specific day, for example, when it is planned to install the New Year's beauty of spruce. And do not forget that handicraft is the most exciting activity!
Paper snowflakes with your own hands
The simplest thing you can do with your own hands is to cut and attach snowflakes in different places. Everyone remembers how as a child he carved them before the holidays in the garden. Today, becoming parents, you can usefully and gladly spend time with your child, cutting beautiful white snowflakes with your own hands from paper. Kids always take part in such events with great joy.
Teaching a child to cut a snowflake is not difficult at all. To do this, you need to prepare the necessary tools and paper. As a basis, you can take napkins, colored paper or just a white sheet from the album.
Sheet thickness does not matter. But you need to know that thin sheets and aerial snowflakes are made from thin sheets. Too heavy paper will be difficult to cut.
You will also need a pencil, and sharp scissors. After the pattern for the future snowflake is selected, the paper is folded as shown in the photo. The more additions you make, the more interesting and delicate the snowflake will turn out.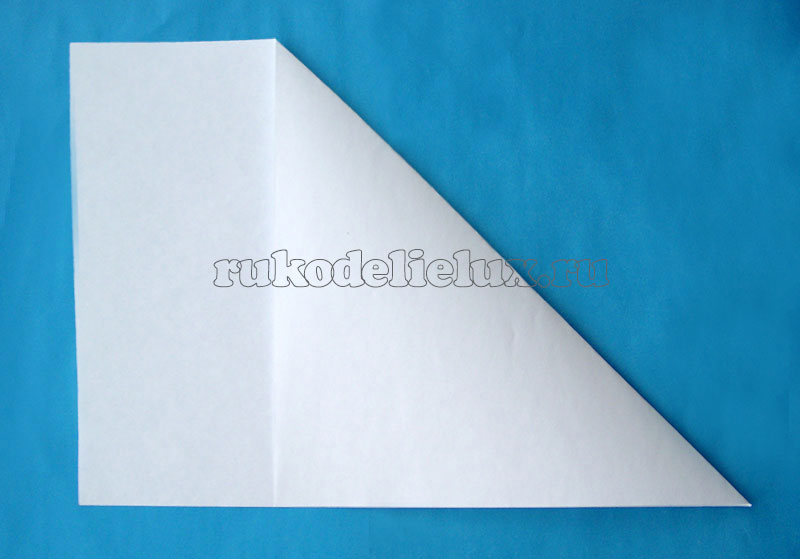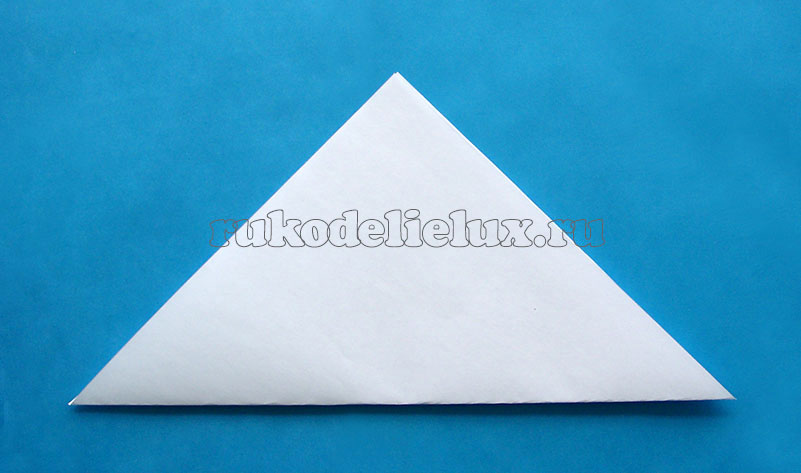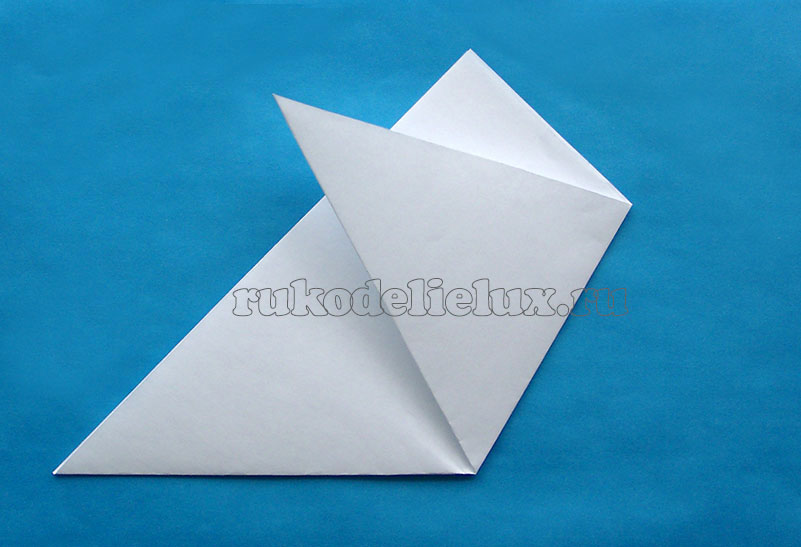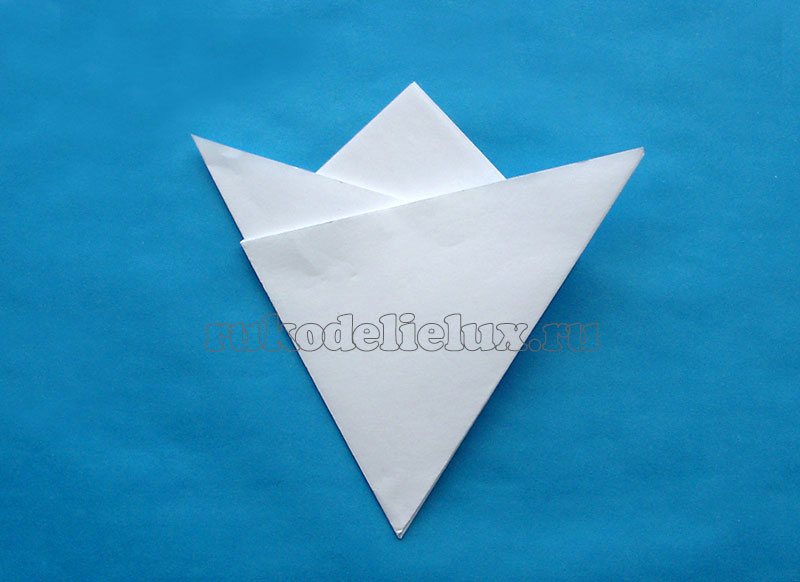 The size of the future decoration depends on how large the sheet is initially selected. In this case, the choice is affected only by the desire to have a large or small snowflake.
Next, proceed to applying the pattern. You can find ready-made schemes for cutting out snowflakes at the end of this article, but the most beautiful snowflakes come out when a drawing is thought out spontaneously, from the head.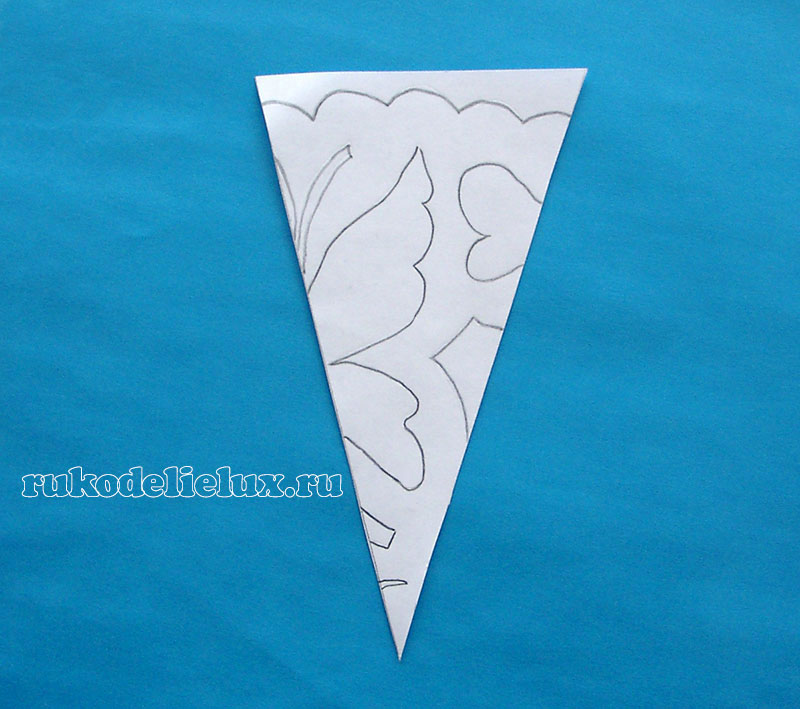 When the drawing is applied to the paper, proceed to cut. This process requires special care and accuracy. In no case can not cut the edges of the paper on the folds, as the snowflake can simply fall apart.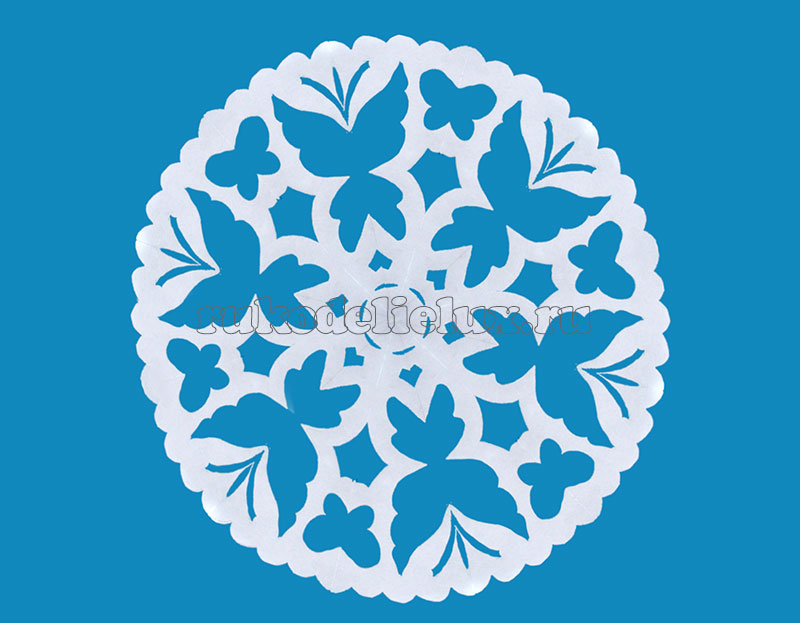 Children really like this process. After all, in the end you will get the beauty with your own hands, which makes it so pleasant to decorate a Christmas tree, windows or walls in a room.
It should be noted that it would seem that such a simple exercise as cutting paper snowflakes with your own hands is a great opportunity to develop a child's imagination, sense of wonderful artistic taste.
Developing the abilities of your child can and should be at home, but a variety of circles in the garden, the school will only help to increase the level and hone the talents of the child.
We also recommend reading interesting articles with unique photos:
Christmas crafts with their own hands
Christmas toys with their own hands
Christmas tree with your own hands - how to make
DIY polystyrene snowflakes
In addition to simple cutting out of a child's paper, you can be interested in making three-dimensional models of snowflakes. Such decorations are designed for older children and adults. But from this they did not become less interesting or beautiful.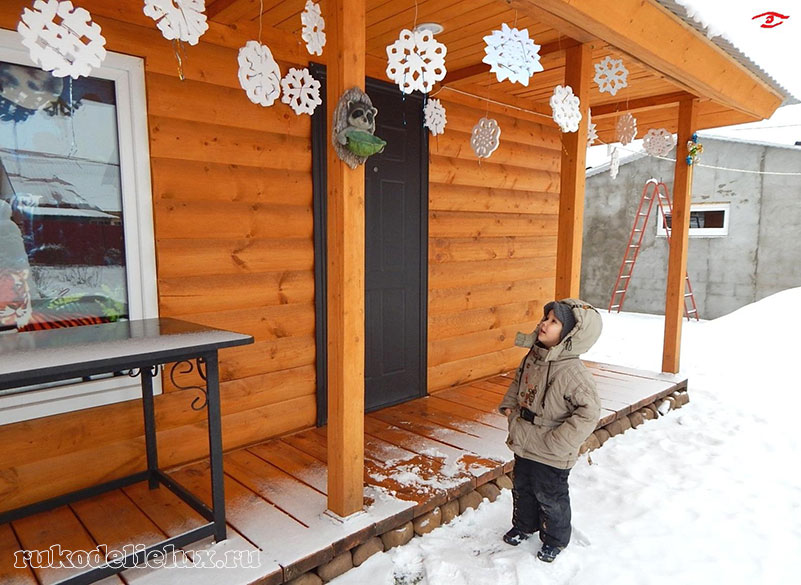 The same openwork paper snowflakes are taken as a basis, the pattern is transferred, for example, to foam plastic or foam plastic. With the help of a sharp knife, all the necessary elements are cut out, and as a result, unusually beautiful, voluminous snowflakes are obtained.
They can be left white, but if you connect the kids and paint them together with bright colors, such décor elements will simply surprise you with their unusual design. And the time spent for their creation, will unite all family members. The result of your labors will be unique handicrafts.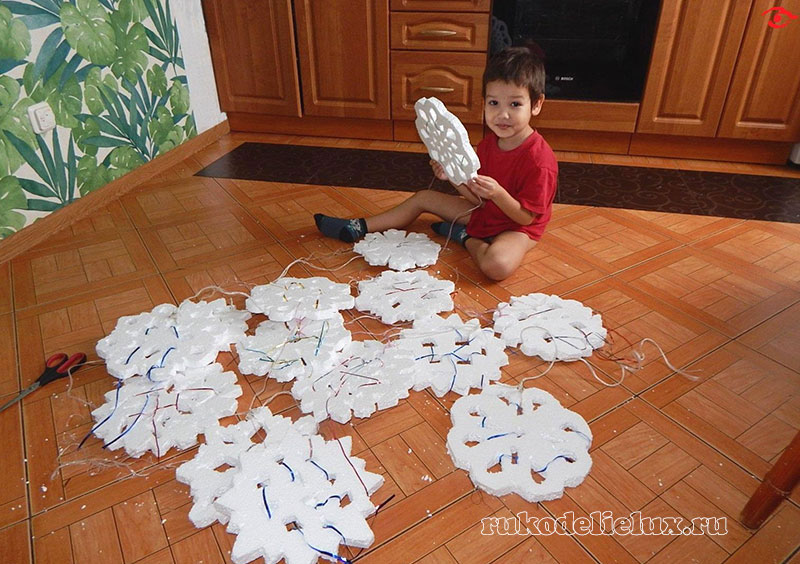 DIY volumetric paper snowflakes
In this master class we will make such a heart with a snowflake. It can be used as a bag for a small gift or just as a Christmas tree decoration with your own hands.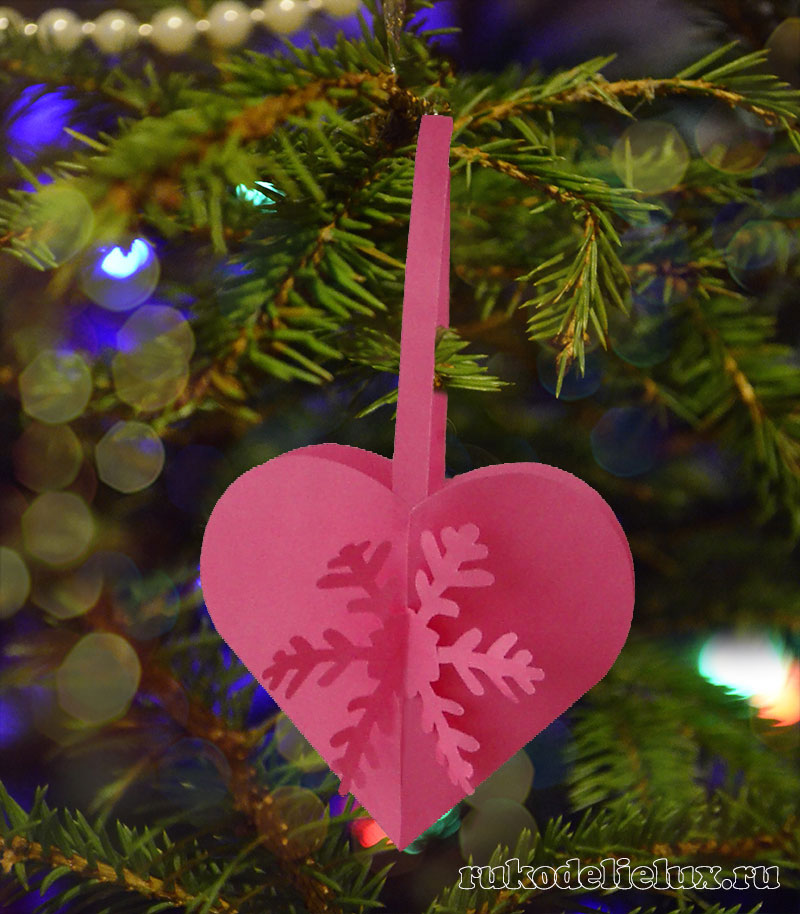 First you need to print this scheme.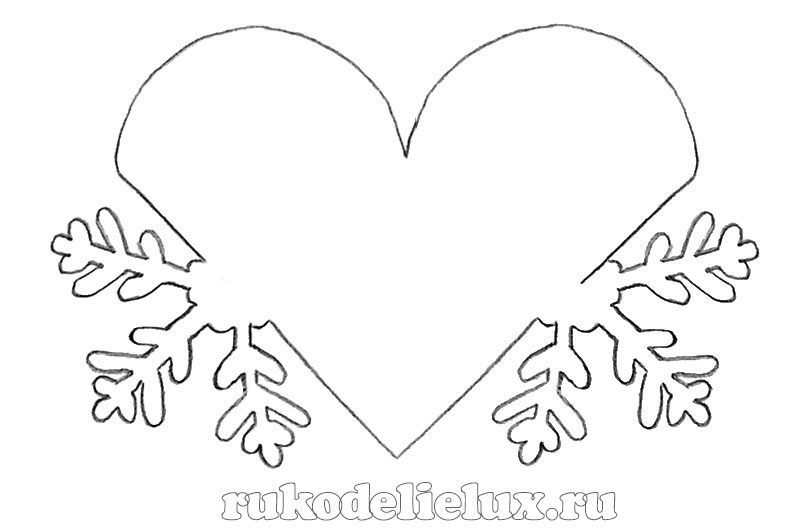 Next, take the colored paper and fold, as shown in the photo.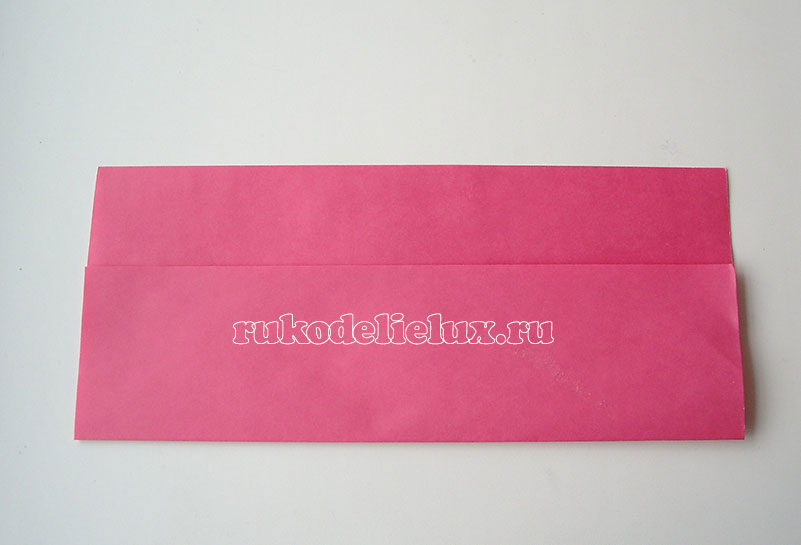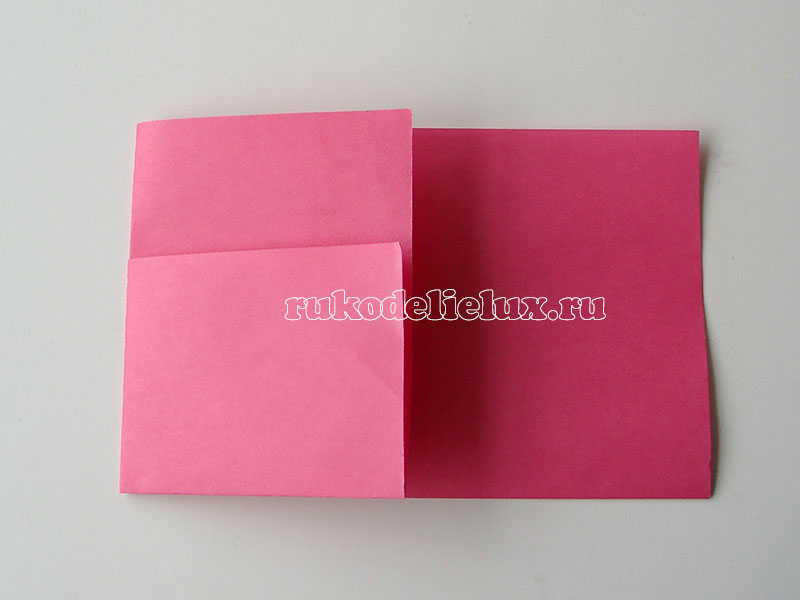 We transfer the scheme to paper and cut it out.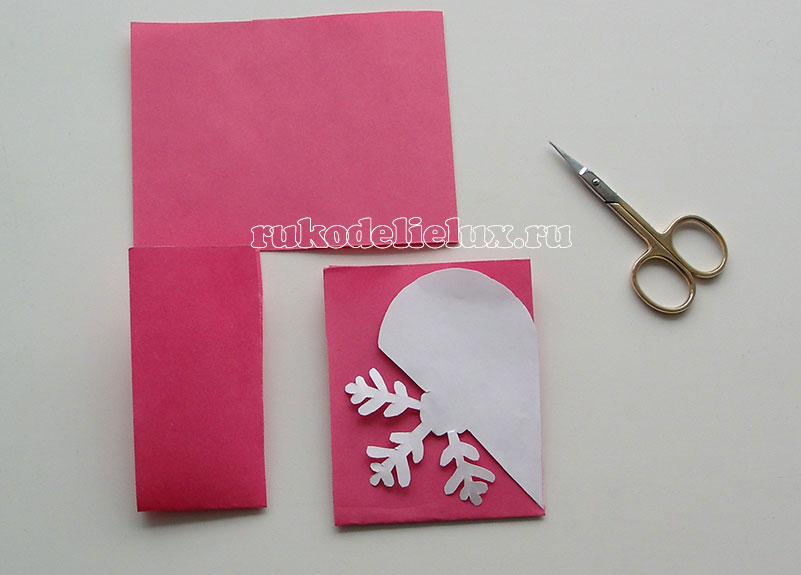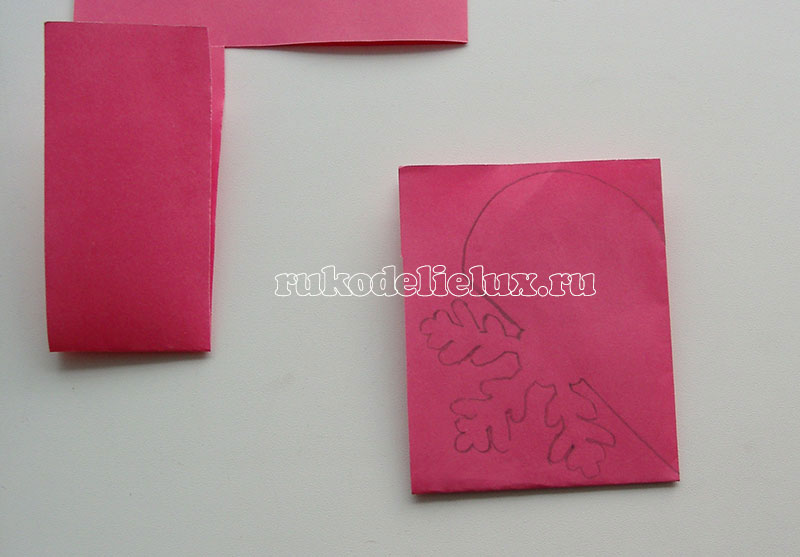 The result is two identical blanks.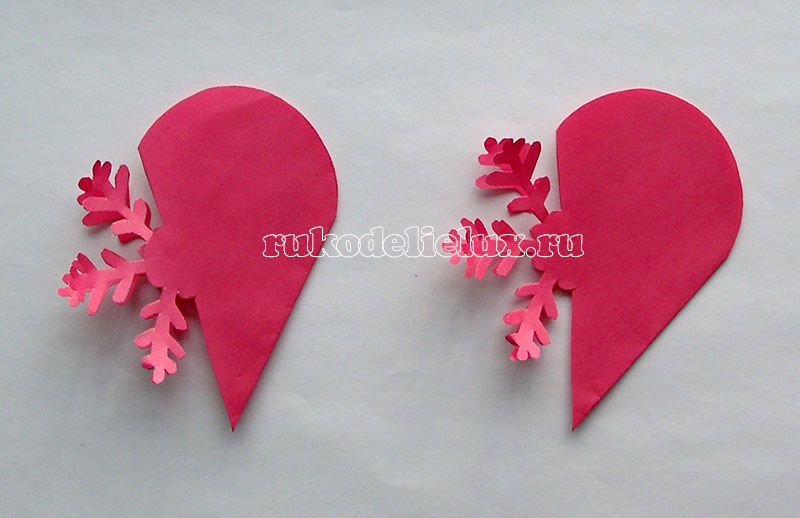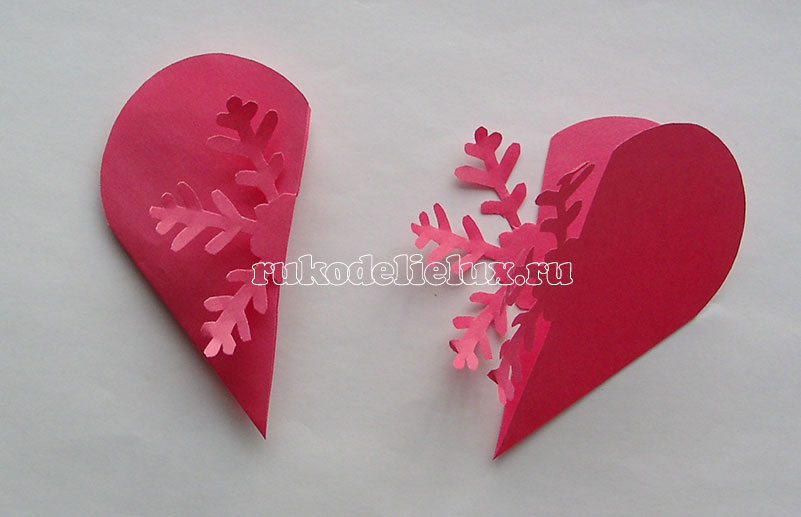 To bond together, we make cuts — from one side up to half of the snowflake, on the other, from bottom to half of the snowflake.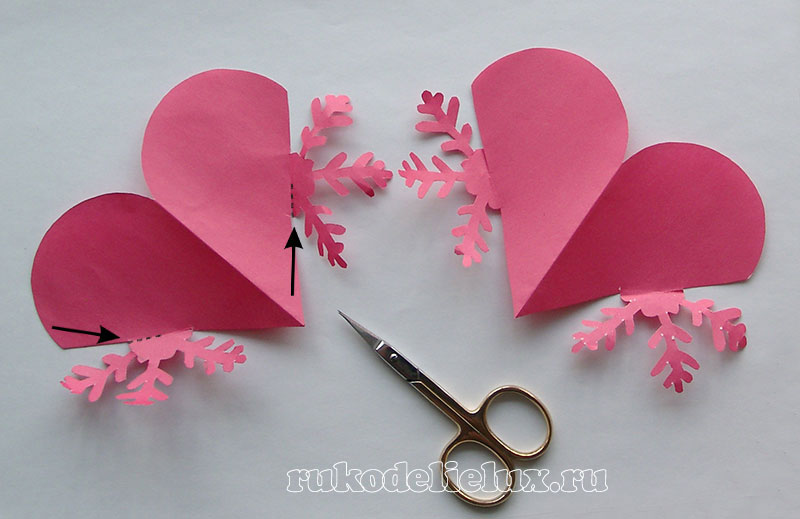 We collect a complete volumetric snowflake, inserting into each other.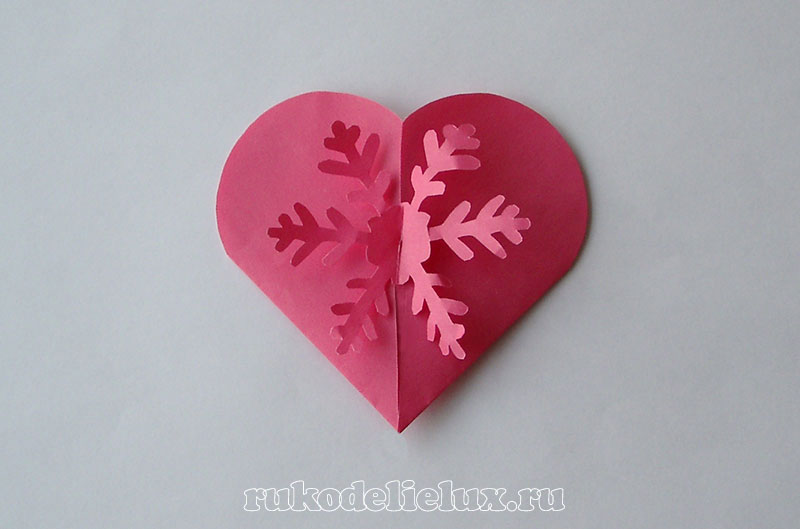 Attaching the pen.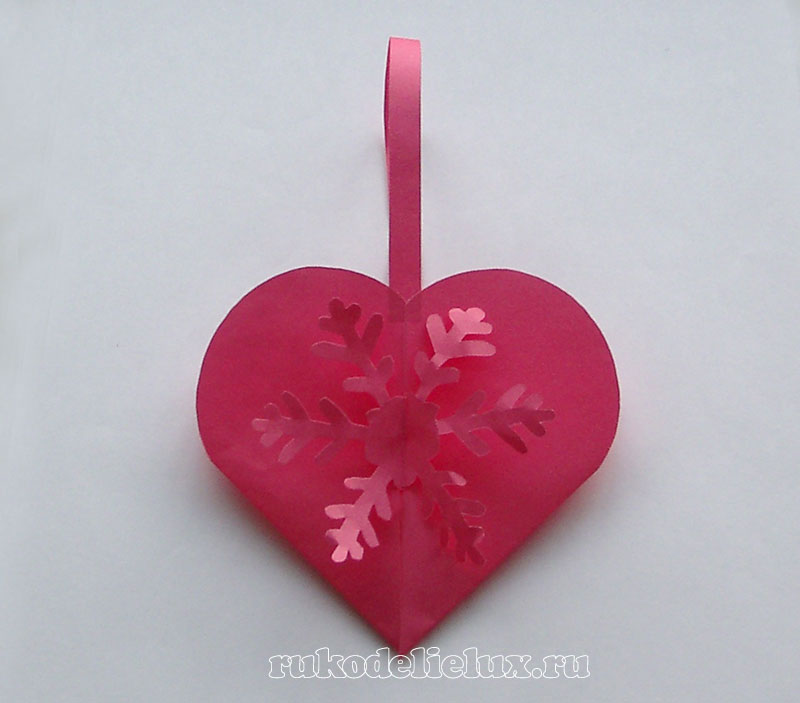 Bulky paper snowflake is ready with your own hands!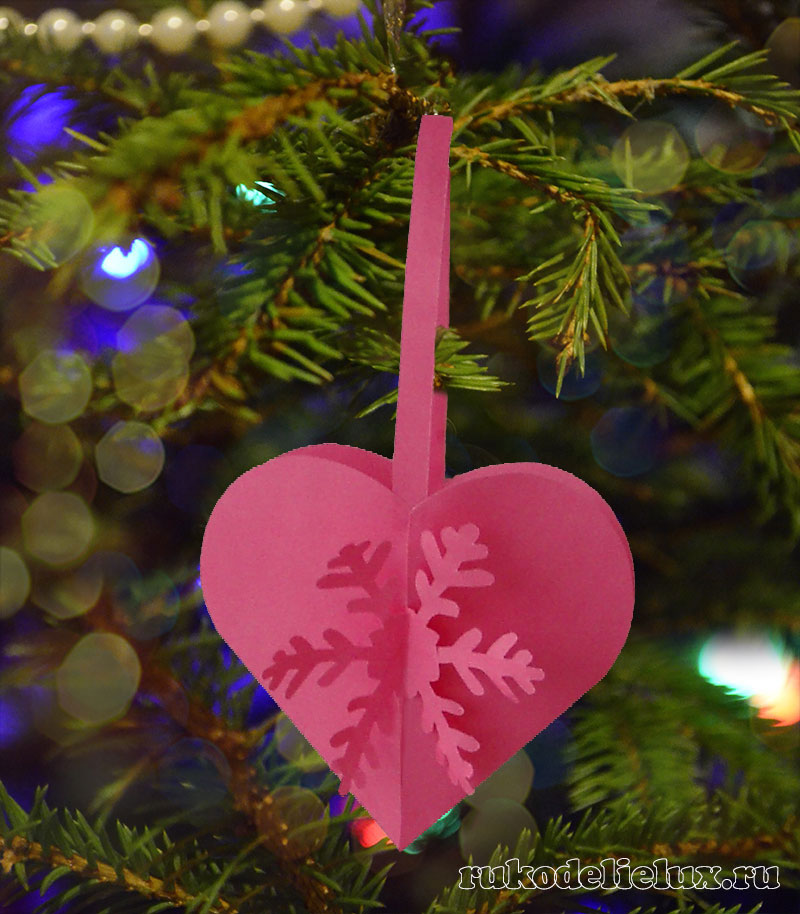 How to make a 3-D snowflake with your own hands
Modern technology has reached and such a seemingly simple occupation, as the creation of a snowflake. As the name implies, 3-D snowflakes are a more complex, but very effective technique, thanks to which the decor made is distinguished by a special grace of lines and rather unusual forms.
What can you do to make a snowflake with a 3D effect? ​​
Prepare a square sheet of paper of the desired color, a pencil and a ruler, scissors or a sharp paper knife, glue.The work on making 3-D snowflakes is very painstaking and requires a lot of patience.
The first thing you need to do is draw a piece of paper into squares. We will need 6 equal squares. Then apply here, such a scheme. It can be printed.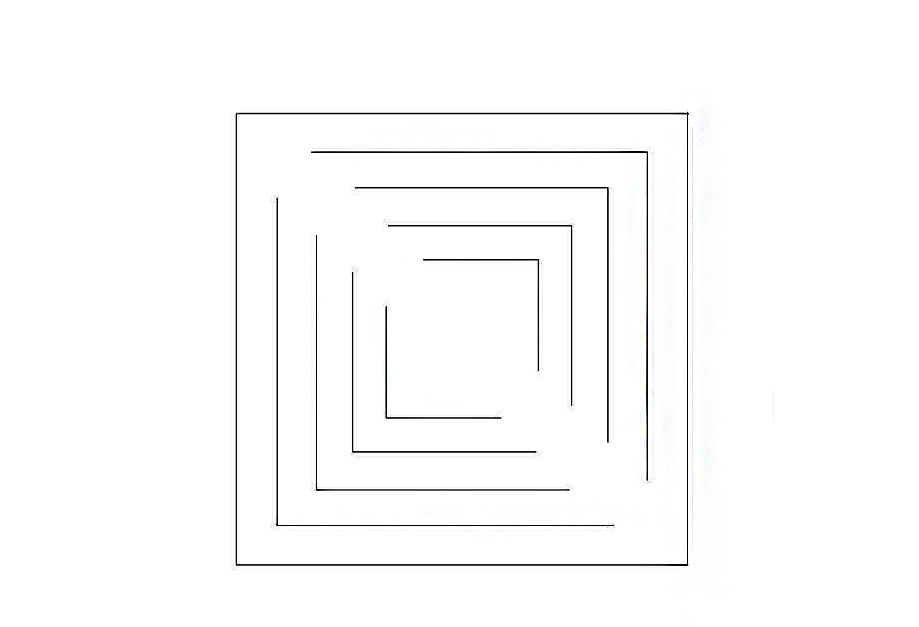 Fold the square in half diagonally, transfer the pattern as shown in the figure. Fold in half again.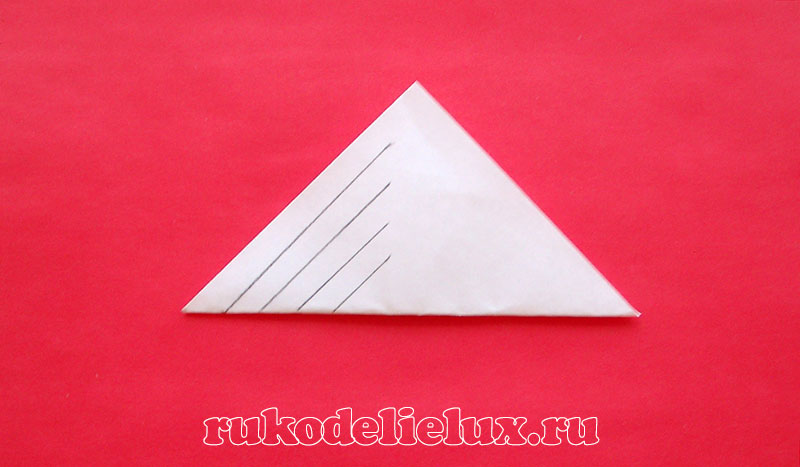 The next step is cutting parallel lines. Cuttings should be done in such a way that they are directed to each other, but did not converge to the end.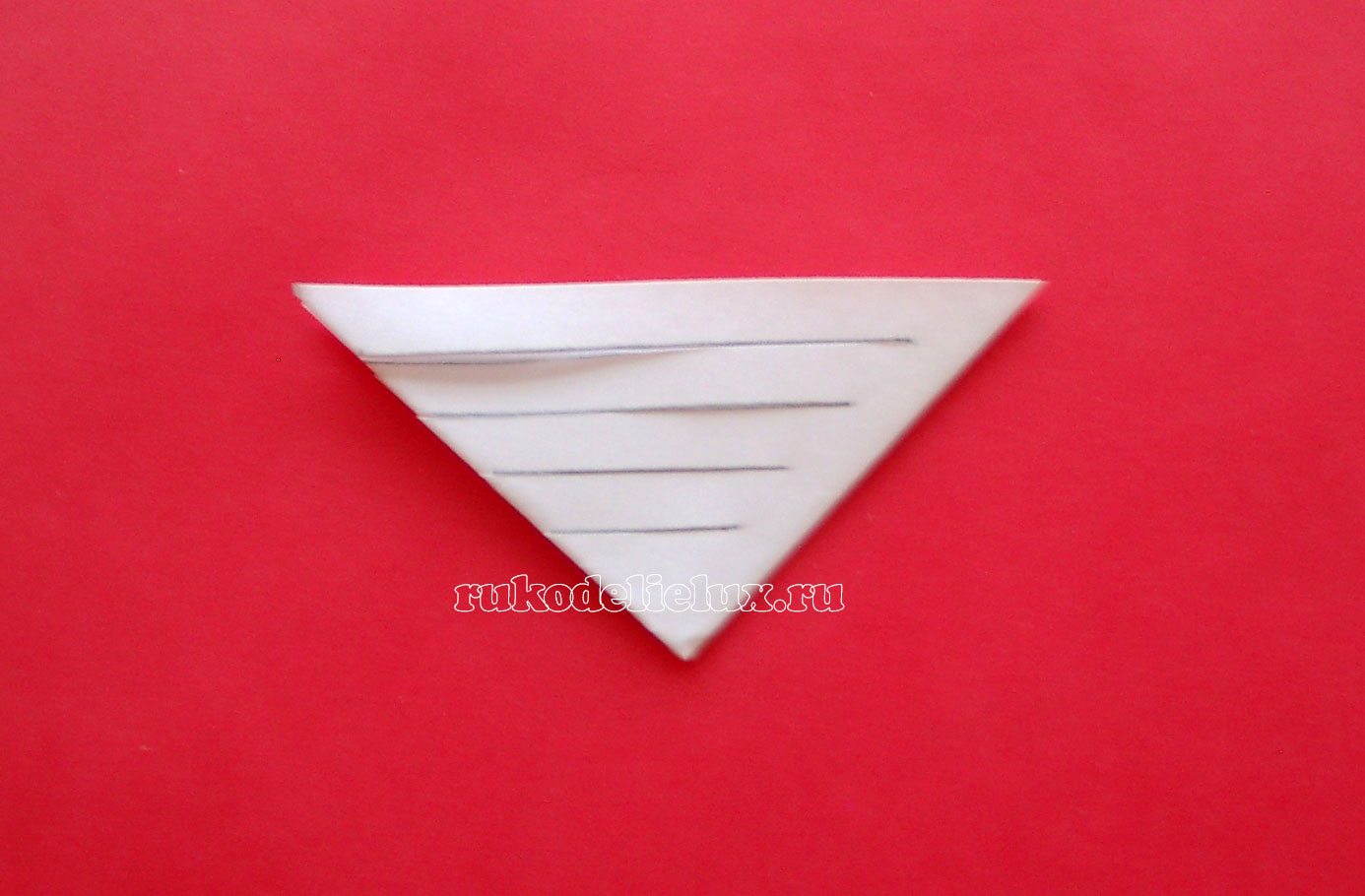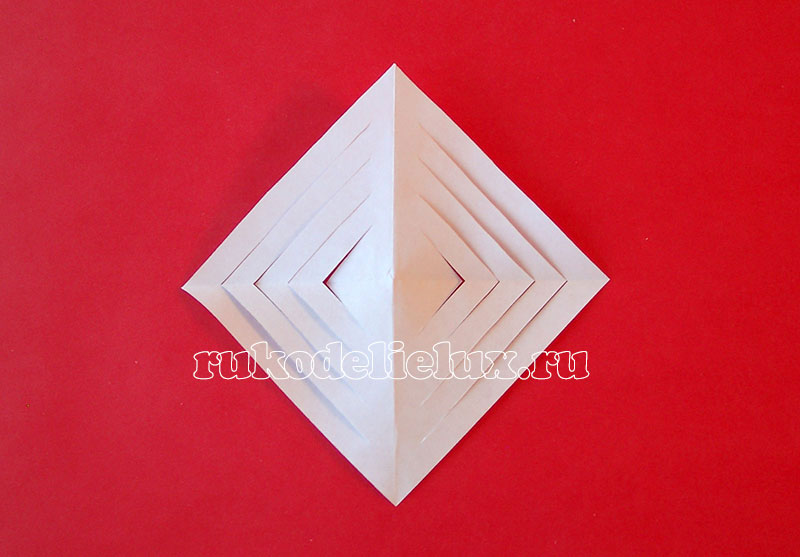 We join and glue the corners of the first small square.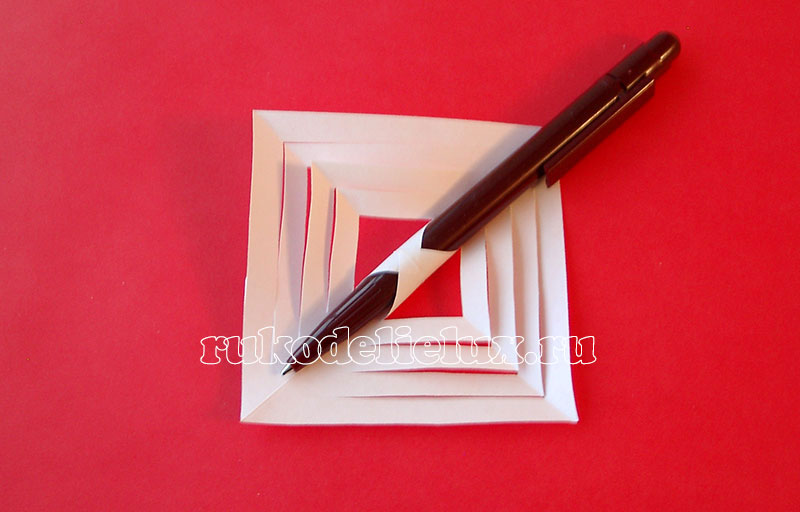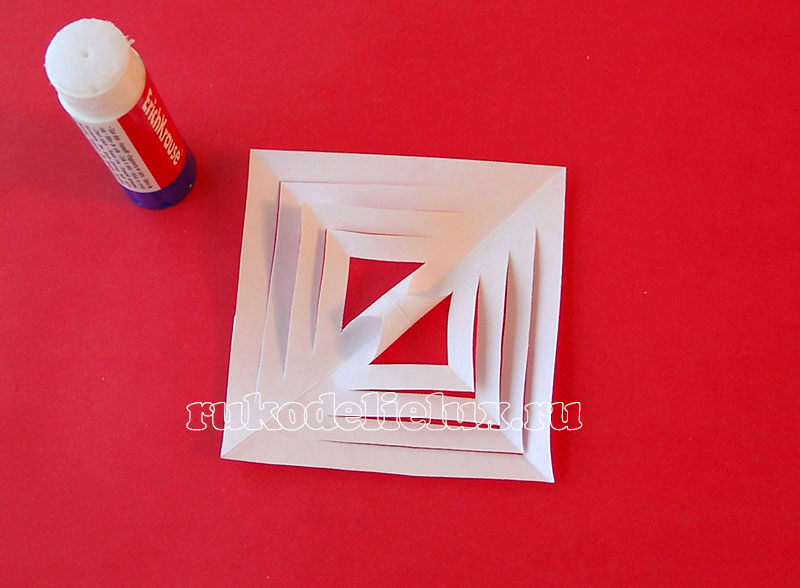 Then we turn and glue the corners of the next square.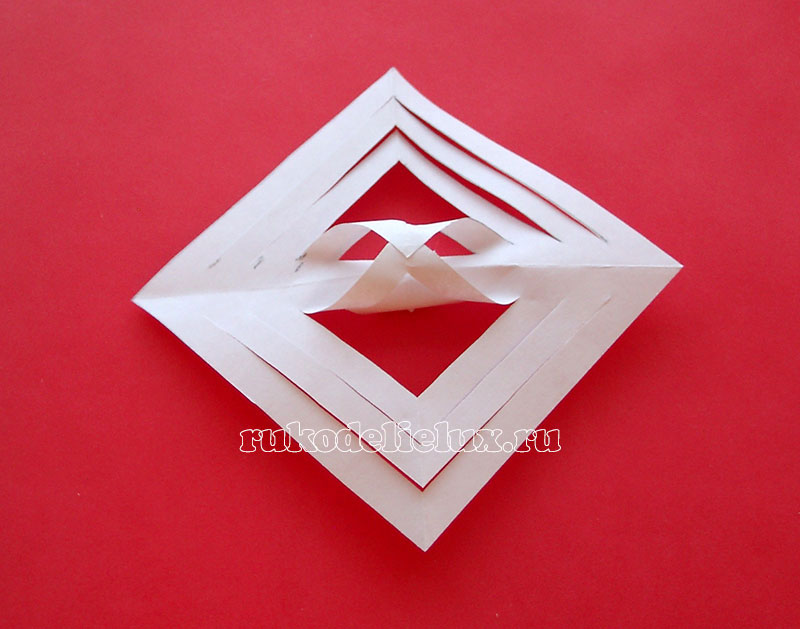 And so on in order, until all the corners are glued together.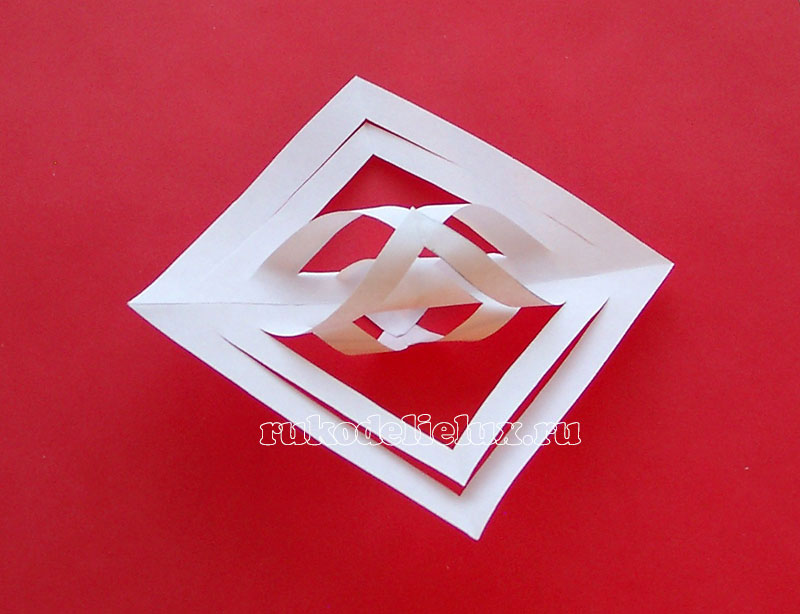 To make a snowflake voluminous, you need to very carefully glue the corners of all the squares. As a result, six snowflakes are obtained, which, gluing together, form a three-dimensional three-dimensional figure.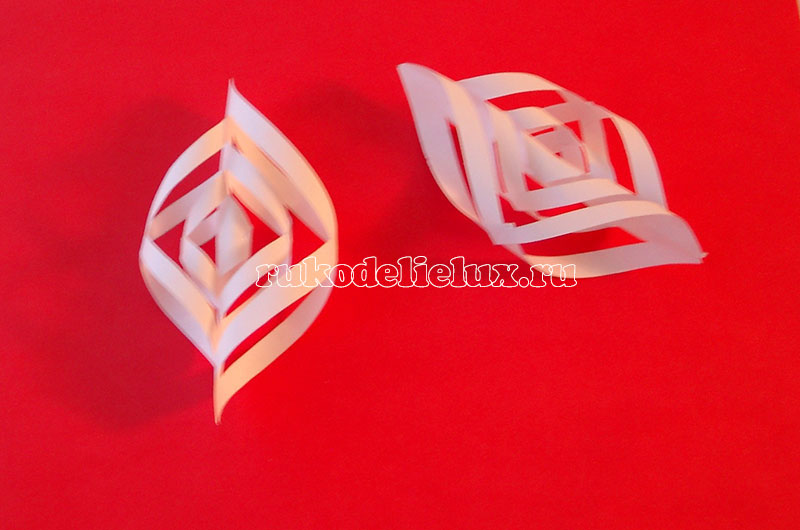 We connect the angles of all the blanks with each other.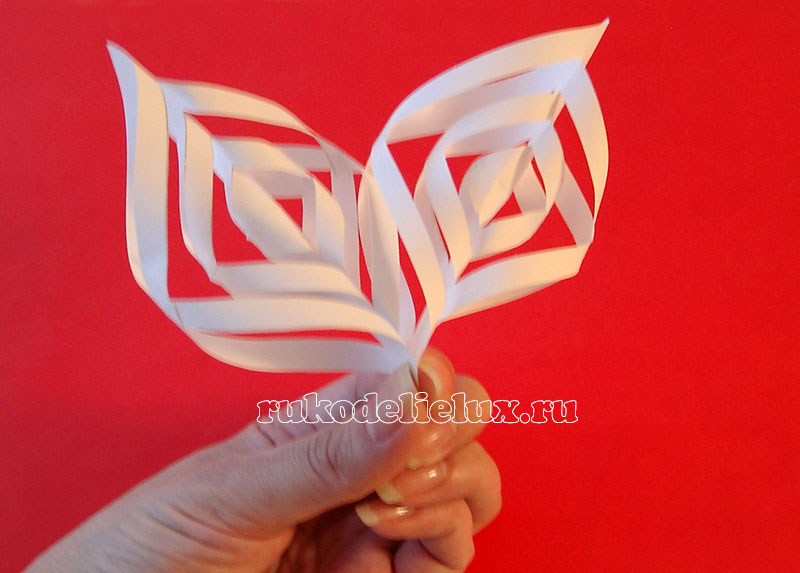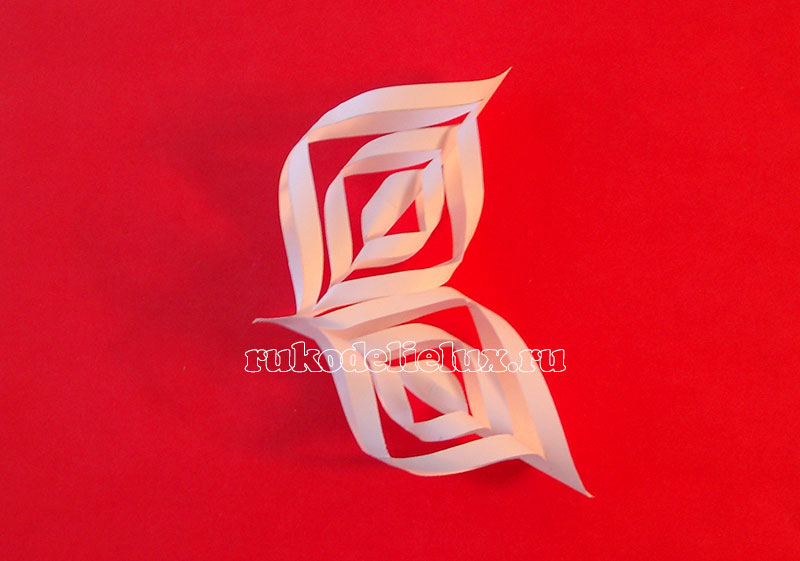 To keep the shape and not disintegrate, it is necessary to glue the sides of the snowflake in addition.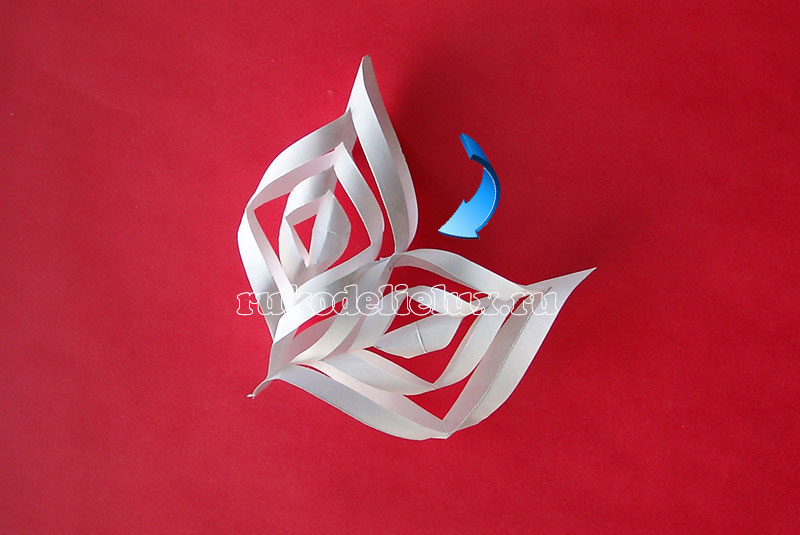 That's it, our 3-D paper snowflake is ready!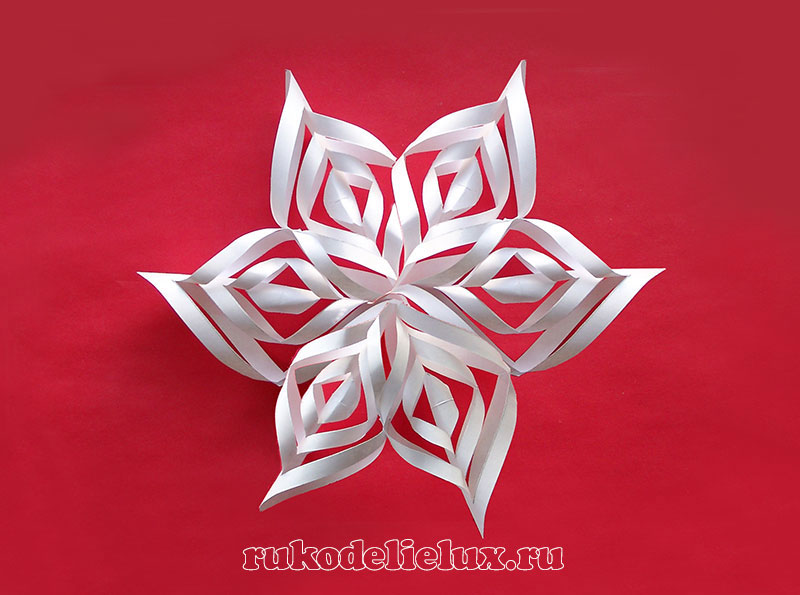 Coming up with various patterns, painting a figure with colors and even decorating with beads can not only create a very beautiful Christmas decoration, but also help develop the child's imagination and sense of style.
Paper snowflakes - kirigami instruction
Snowflakes - Kirigs are a pretty easy way to quickly and effortlessly make many beautiful decorations. The highlight of this type of snowflakes is the selection of paper.For snowflakes - kirigami need bright colored paper.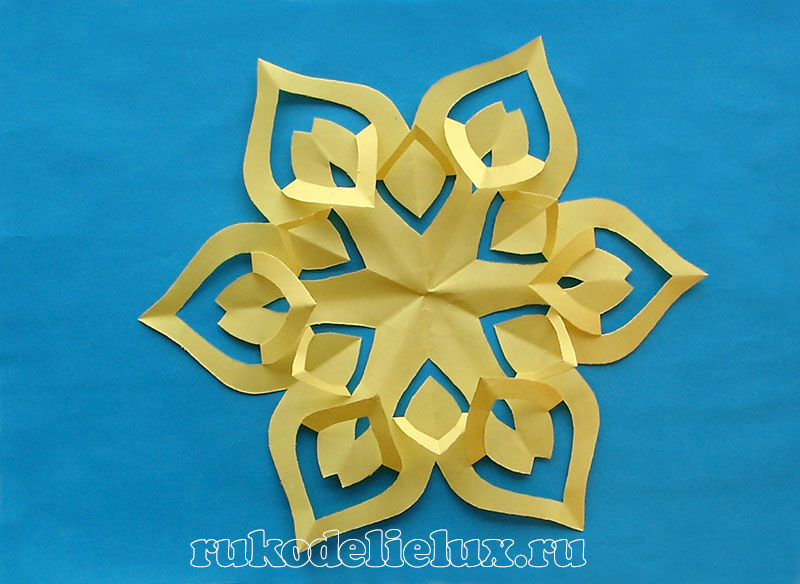 It can be colored only on one side, but you can choose paper saturated colors on both sides.
Take an A4 sheet and fold it as shown in the photo.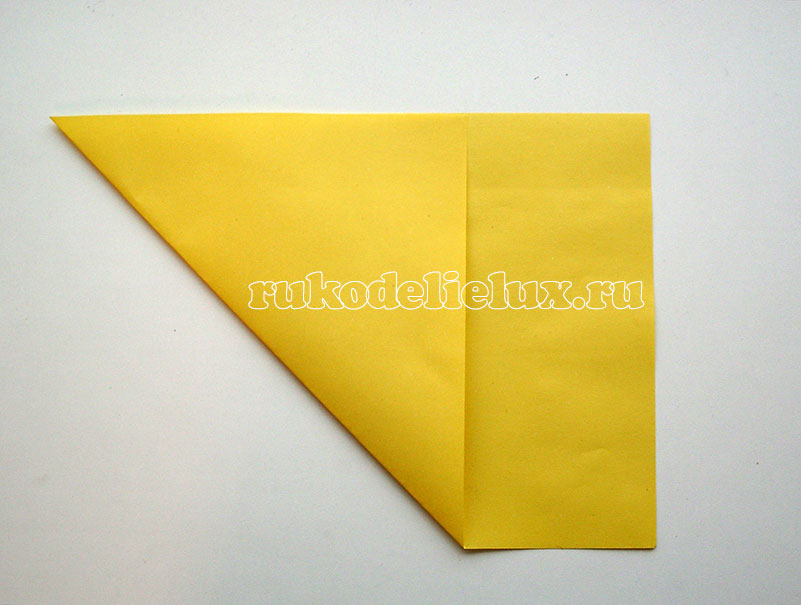 Cut a square, fold in half diagonally.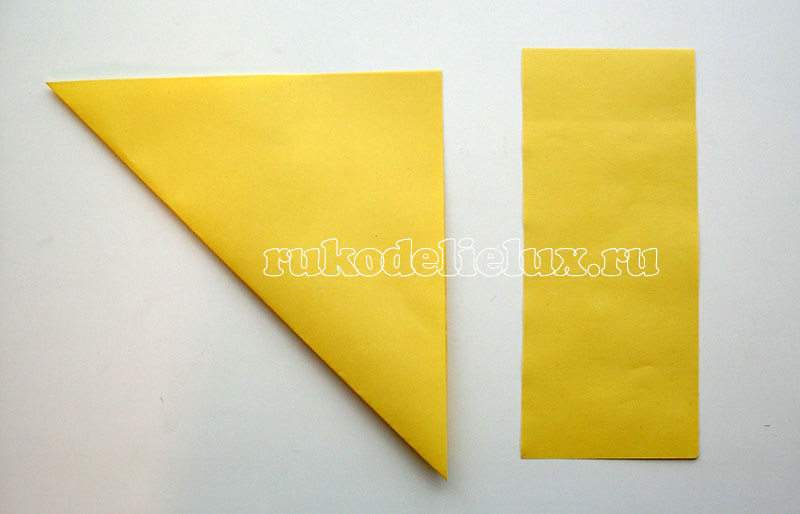 Fold two more times.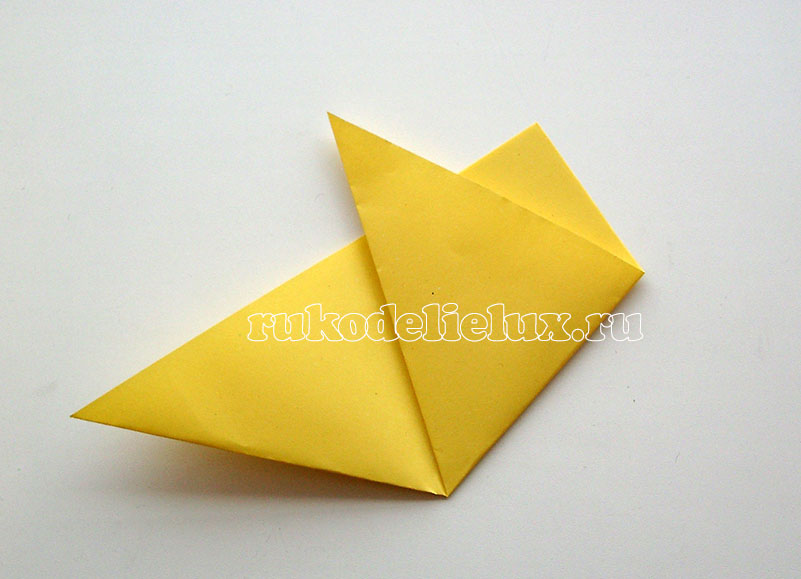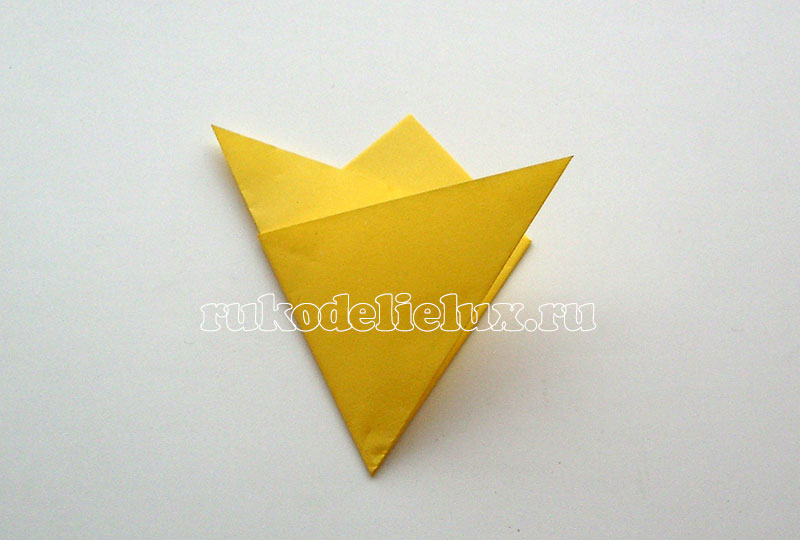 Then we print and transfer such a scheme to the finished workpiece.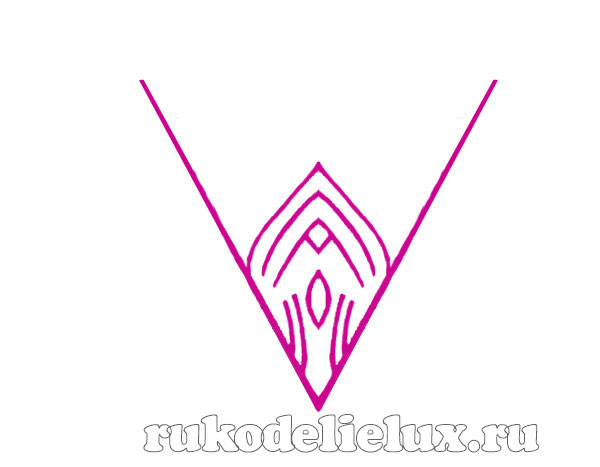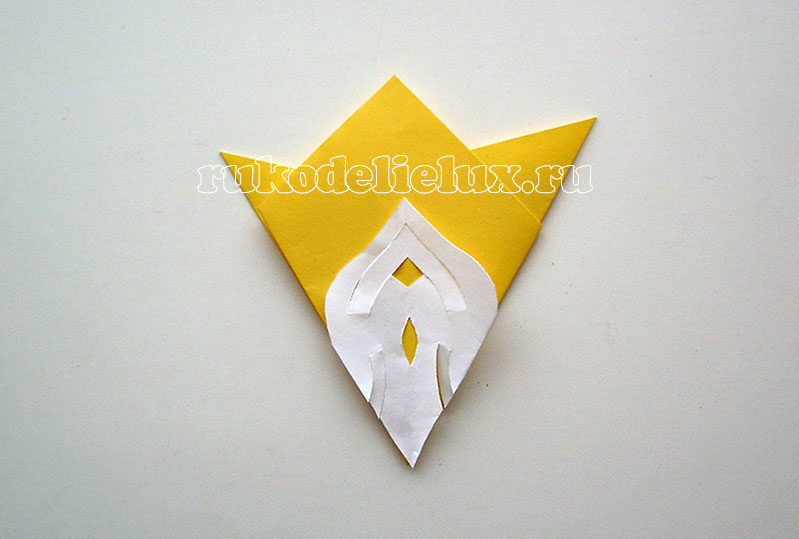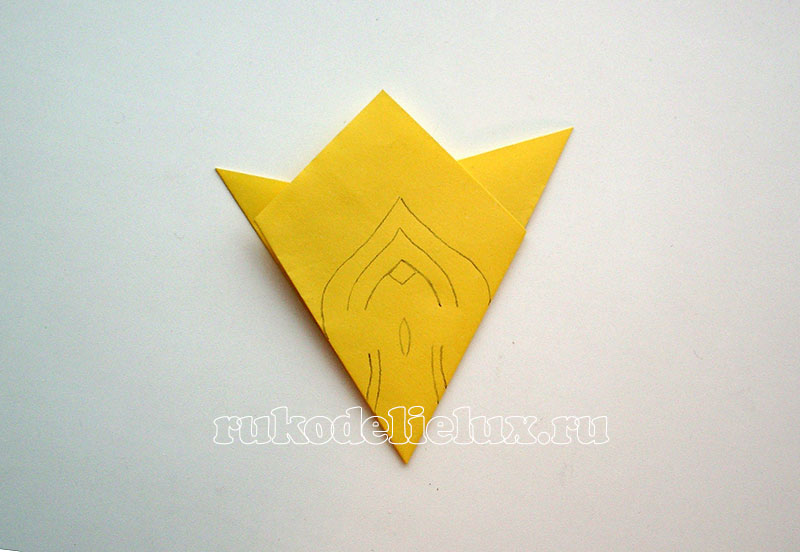 The next step is to cut out patterns on the workpiece with the help of nail scissors.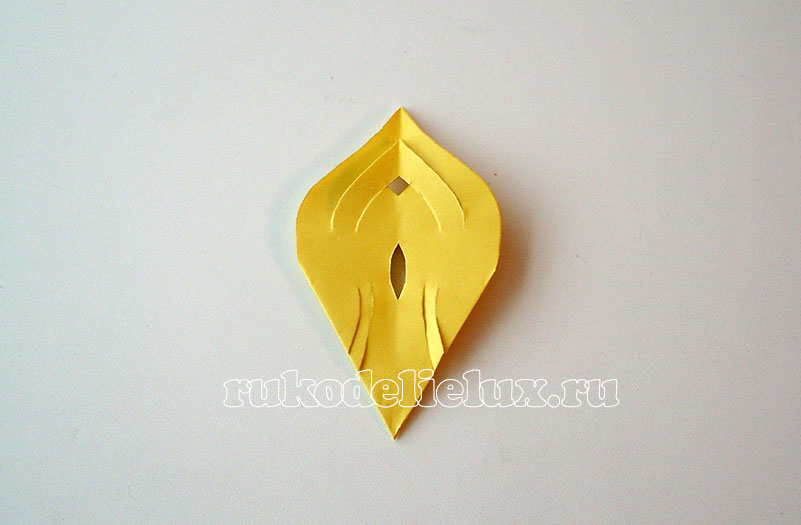 Carefully cut the snowflake, turn it around.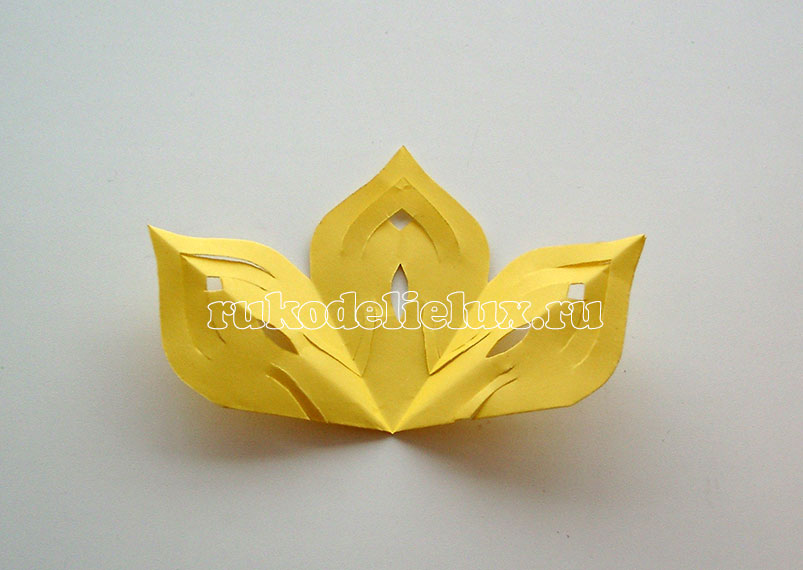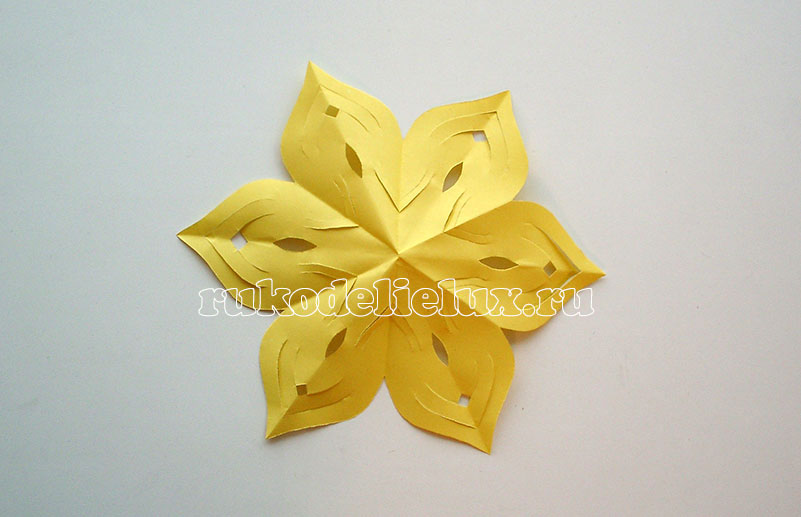 Bend the corners, as in the photo.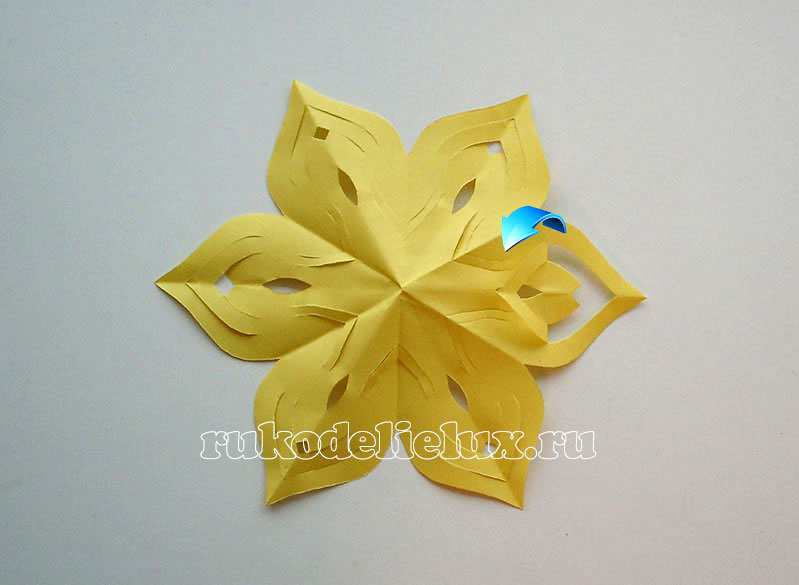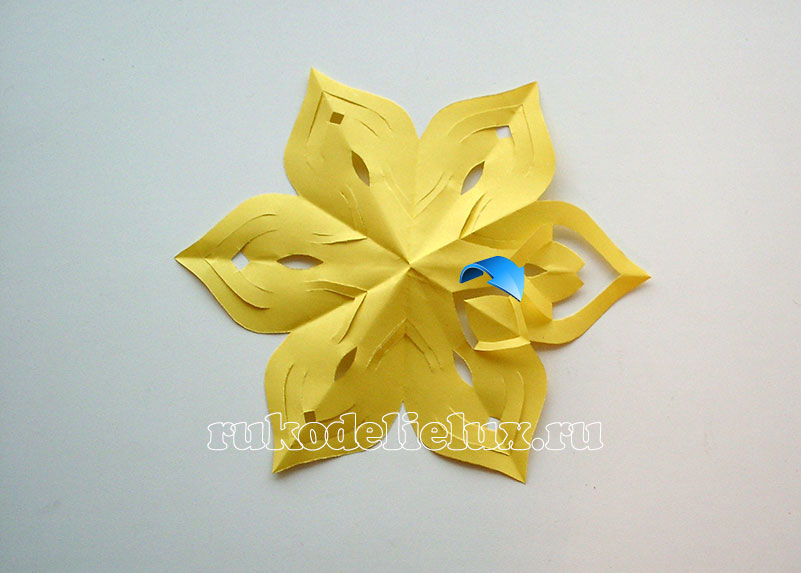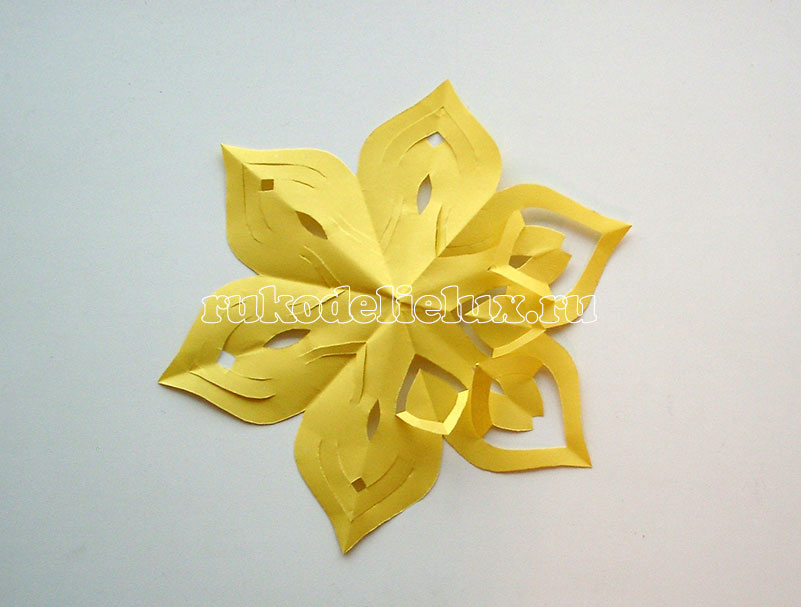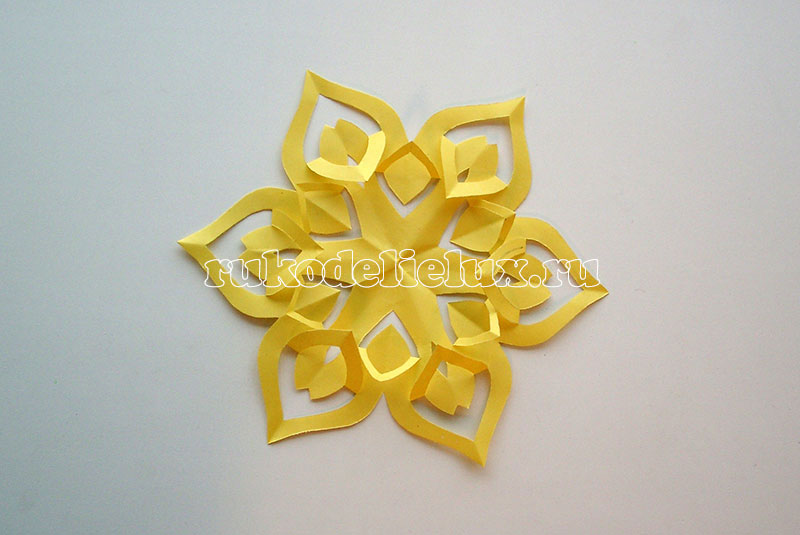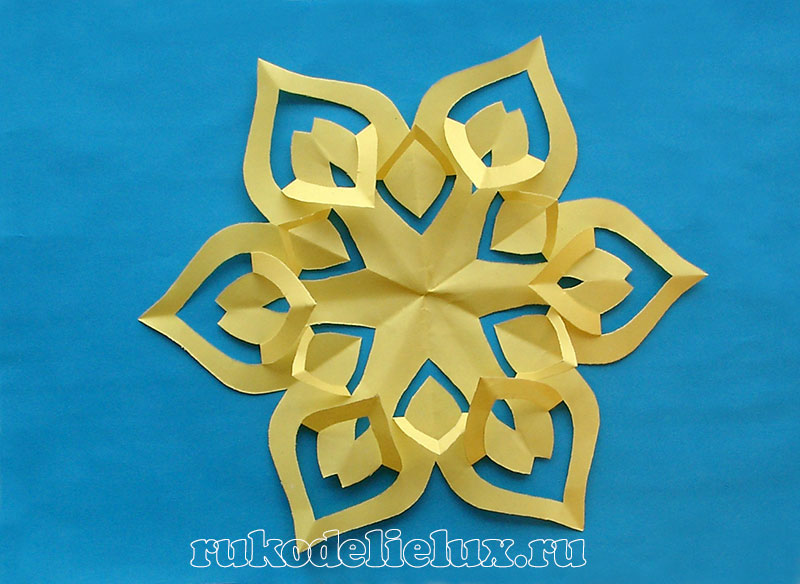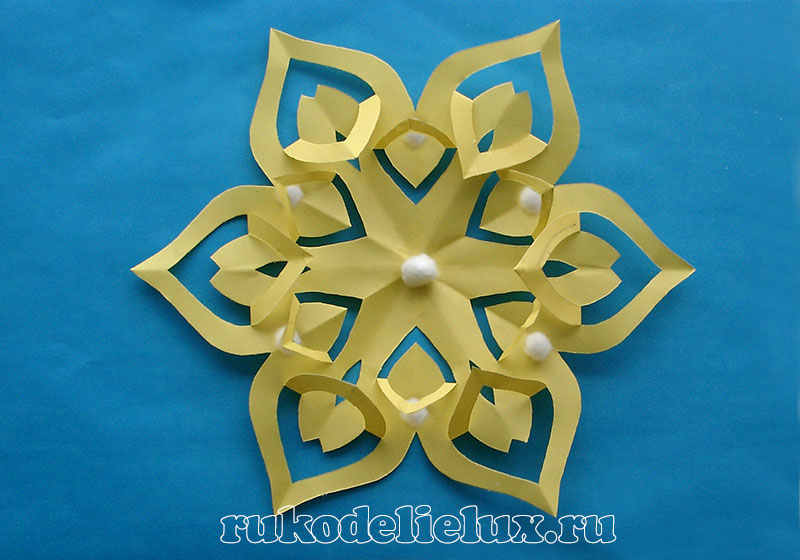 The snowflake can be decorated with stasis, beads, Christmas-tree tinsel, and then it will become the central decoration of your New Year's house.
2 more variants of snowflakes-do-it-yourselfers: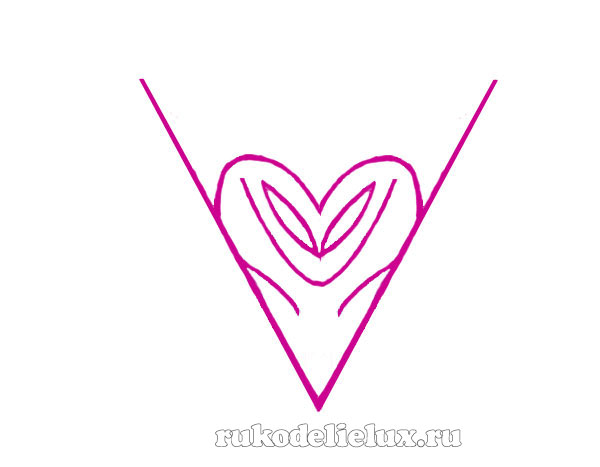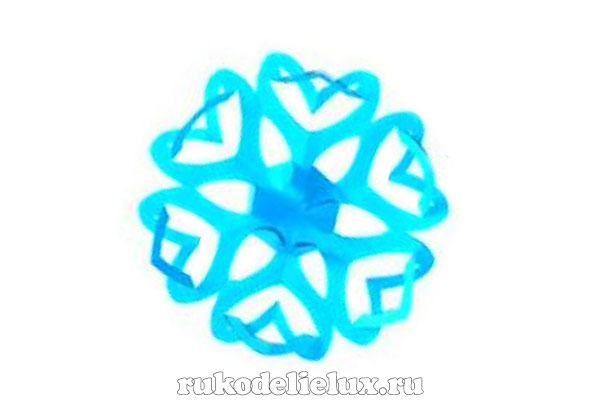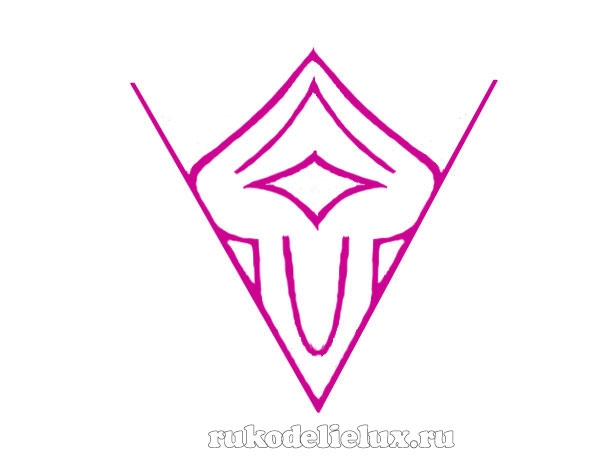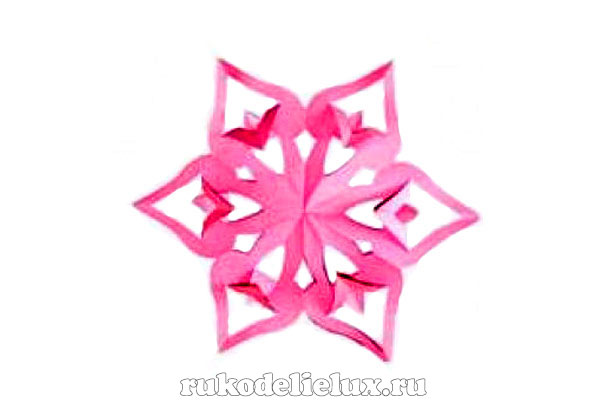 Snowflake-ballerina do-it-yourself paper
A light, airy ballerina figure is very beautiful. If you combine together two kinds of beautiful snowflake and ballerina figure - the effect can exceed all expectations.
It takes a lot of time to make this kind of decoration. But the job of cutting it out is simple enough, even a child can handle it.Not just single figures, but a whole garland of elegant ballerinas look very impressive.
What you need to prepare for work:
a figure of a dancing ballerina
Thin white paper for a tutu ballerina. Paper laminates are very suitable;
thin white cardboard;
scissors.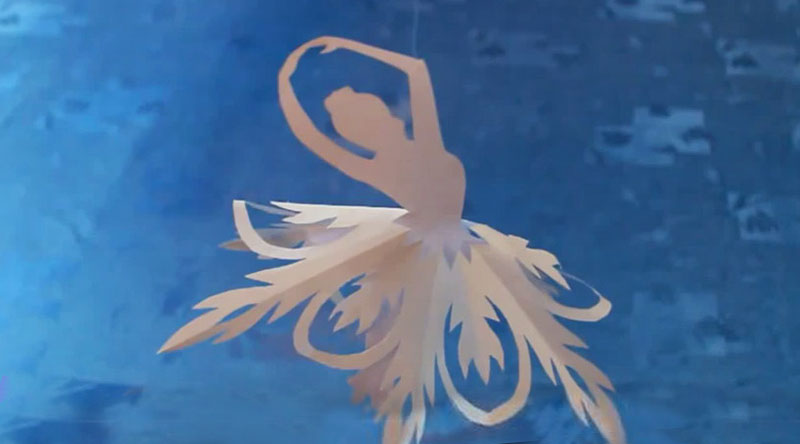 Select a ballerina figure template. In the Internet you can find a large number of options. Simply copy the selected template into a text document, format and print. But it is much more interesting to draw a sketch yourself. Transfer the template to cardboard and cut it out.
It is very important that the cardboard is white on both sides, as the snowflake is voluminous and is easily visible from any side. The size of the figure is chosen as desired. There are no restrictions on this issue.
Next you need to make a tutu for the ballerina. In our case it is a snowflake. It is important that the paper for the snowflake was thin, then the skirt will be light and airy.
Watch the video - how to make a snowflake-ballerina with your own hands
A very beautiful tutu is obtained from a white multi-layered napkin. We make a snowflake in the usual way. Apply your favorite pattern on paper and cut it with sharp scissors.
The only caveat to note is that a paper snowflake should have a rather large central hole. In this case, she will easily sit on the ballerina's cardboard figure.
Master Class - beautiful volumetric snowflake video
It so happened that the snowflake has become an attribute of any New Year's holiday. Often on New Year's commemorations the first role for girls is a snowflake. We can safely say that the snowflake is the main attribute of the celebration of the New Year.
Paper made snowflakes made with your own hands and with joint efforts with children is a very simple way not only to decorate your house, but also to bring New Year's spirit, a sense of celebration and family unity.
Do not deprive yourself of the pleasure to make jewelry for the New Year holiday with your own hands. A variety of methods for making snowflakes allows everyone to choose the most suitable for themselves.And it is not necessary to spend a lot of money. It will take a minimum of cost, imagination, patience, accuracy and a great desire to do something beautiful with their own hands.
Related News
Knitted slippers
Soft Passport Covers
Japanese food
How to lower a person
Layfkhaki how to quickly get rid of the smell of frying in your kitchen
Brooch with Ukrainian symbolism with your own hands